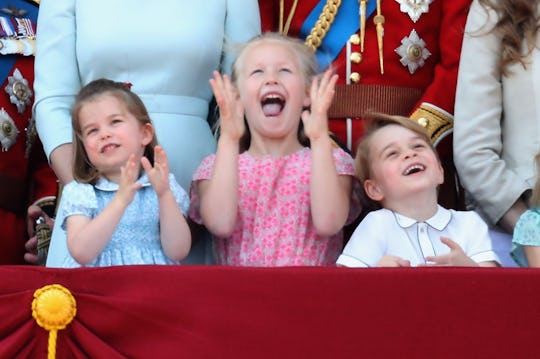 Chris Jackson/Getty Images News/Getty Images
Prince George & Princess Charlotte Had The *Best* Time During The Palace Flypast
Every time Prince George and Princess Charlotte make a public appearance, their overall cuteness and silly antics tend to steal the spotlight from their adult royal counterparts. There's just something about the fact that they're still just kids — even if they do have fancy titles and big shoes to fill in the future. Although they're exceptionally well-behaved as far as young children in public are concerned, they still just who want to have fun. And today, the royal kids inadvertently stole the show during the palace flypast, and it's just too cute for words.
On Tuesday, a special flypast was held over Buckingham Palace in observance of the Royal Air Force celebrating its 100th birthday, People reported. While adult members of the royal family — including Queen Elizabeth II, Prince Charles and Camilla, Duchess of Cornwell, Prince Harry and Duchess of Sussex, Meghan Markle, and Prince William and Kate Middleton, Duchess of Cambridge — looked on from the Buckingham Palace balcony, the royal siblings were enjoying the affair from the palace windows. Alongside their nanny, Maria Turrion Borrallo, and Middleton's private secretary, Catherine Quinn, Prince George and Princess Charlotte could be seen in all their excitement as the event unfolded, People reported. And they were basically having their own, not-so-private party from the palace window. The little princess, for example, could be seen sticking her tongue out (yet again) while she and her brother thoroughly enjoyed the flypast.
Of course, Twitter was simply smitten over the royal kids' excited antics during the official event. "There she is again sticking out her tongue just like uncle Harry," one Twitter user commented. (As a child, Prince Harry was photographed a couple of times while sticking his tongue out at photographers.)
Another Twitter user wrote, "As they should! Too darn cute"
Yet another Twitter user simply commented, "Cuteness!" along with heart emojis.
Prince George and Princess Charlotte are no strangers to accidentally stealing the spotlight. Far from it, actually. As Hello! Magazine reported, the royal siblings basically stole the show during the May 19 wedding of Prince Harry and Meghan Markle. From Princess Charlotte making faces in the car upon arriving at the grand affair...
To her adorable waving while on the chapel's steps after the ceremony...
Princess Charlotte's cute antics were totally on point for the royal wedding. As for her big brother? Plenty of fans were captivated by the fact that Prince George seemed to be carrying on a full conversation with another page boy as they were walking down the aisle behind the bride.
Following the ceremony, though, Prince George, 4, was decidedly less-enthused about the royal wedding. While standing on the steps alongside his sister and parents, the young prince attempted to hide behind his father instead of waving to the crowds like Princess Charlotte, Metro reported. (I totally feel you, bud. I get the same way after prolonged social interaction.)
Just a few weeks later, the royal children managed to steal the spotlight yet again during the annual Trooping of the Colour. As Good Housekeeping reported, Prince George and his cousin, Savannah Phillips had a grand old time goofing off on the balcony of Buckingham palace. Like when Phillips shushed the young prince during "God Save the Queen" — and ultimately covered his mouth entirely.
And when Kate Middleton showed off her impressive ninja-mom reflexes by catching Princess Charlotte as she stumbled backward. As ET Online reported, The Duchess of Cambridge reached out an arm to steady her daughter before she actually fell. However, the 3-year-old was clearly freaked out by the stumble. Middleton wasted no time in scooping her up in her arms to comfort her. If you watch in video, below, you can see the incident happen shortly after the 2:06 mark.
Basically, there's never a dull moment when the royal children are involved. Because although they attend serious, official royal events on a regular basis, they're still just kids. Yes, they're unbelievably adorable. But they also get bored, they get tired, they stumble, and sometimes they even have mini-tantrums. Hey, it happens to the best of us — even to royalty.