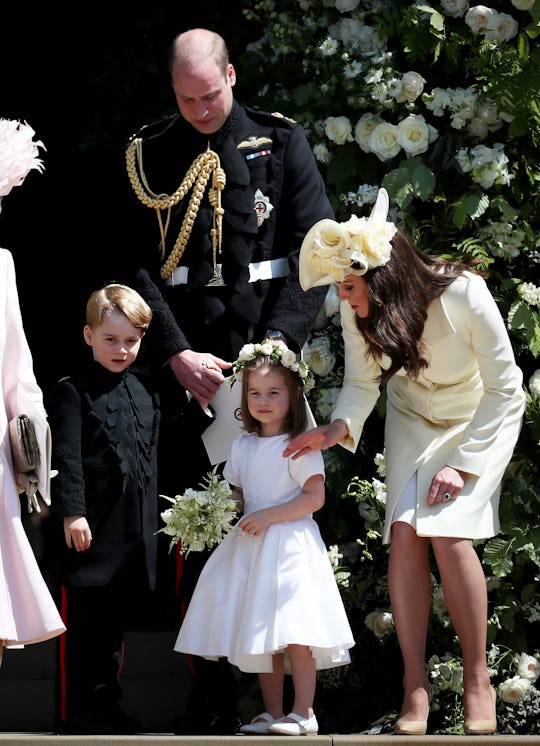 WPA Pool/Getty Images Entertainment/Getty Images
The Royal Wedding Photographer Had To Bribe The Kids For Photos, Just Like Every Parent Ever
Being chosen to take the official wedding portraits at a royal wedding is a major honor, but it also has to be pretty nerve-wracking. And given that Prince Harry and Meghan Markle — now the Duke and Duchess of Sussex — had six bridesmaids and four page boys, all under the age of 8? It seems safe to say New York-based photographer Alexi Lubomirski definitely had his work cut out for him. Luckily, he also had a few tricks up his sleeve: the royal wedding photographer had to bribe the bridal party with candy in order to get the perfect shots of the royal family following the ceremony at Windsor Castle, according to Town & Country. And honestly, there's something particularly comforting in knowing that even the parents of the future king of Britain aren't above using treats to get their kids to smile for the camera.
On Monday, just as we were all settling back into reality following the straight up fairytale that was Harry and Meghan's wedding, Kensington Palace released three official wedding portraits from the big day — a formal portrait featuring the couple and their young bridal party, along with Meghan's mother, and Harry's family (including the Queen); a more relaxed photo of Harry and Meghan with the children; and a black-and-white photo of just the newlyweds, reminiscent of their gorgeous engagement photos (which Lubomirski also shot).
After the wedding, Lubomirski took to Twitter to share his gratitude to the royals for allowing him to take the now-iconic images, and he also shared a few personal snaps on Instagram of his own from his time in the UK. But in a sit-down interview with Reuters, he opened up about what the experience was really like, and honestly, it sounds like photo ops might actually be one way that the royals are just like us.
Lubomirski explained that during the day, people were using Smarties (a British candy similar to M&Ms) as sugary motivation to keep the kids focused, and that it didn't take long for him to realize he needed to use that to his advantage. He said,
[The children] were being bribed with one Smartie here, one Smartie there. So as soon as the kids came onto the set, I immediately just shouted out, 'Who likes Smarties?' And then everybody, hands up, smiles ... so that was our magic word of the day.
The strategy seemed to have worked really well, because he and his team managed to get all six setups done in the brief 25-minute window they were given for photos (though it certainly helped, he explained, that the royals were seasoned pros when it came to taking family portraits). But despite all the formality and royal protocol, Lubomirski told Reuters that, really, they were also just like any other family of any bride and groom:
The atmosphere in the room was obviously very joyful. There were lots of smiles, it was like a family room after a wedding. Some parents were trying to wrangle their children, other uncles and aunts were talking to their nephews and nieces, it was just like a family.
Although the children may have needed a little bribing and cajoling in order to get them to stand still and smile, Lubomirski also revealed that getting the gorgeous photos of Meghan and Harry emerging from the church were actually really easy. He explained that the experience was "one of those magical moments when you're a photographer, and everything falls into place," and told Reuters,
You have Windsor Castle in the background. The sun is setting just over the top of Windsor Castle behind them. It's just the most serene, beautiful light, they're in love, walking around this beautiful garden.
As for the photo shared by the palace of the newlyweds sitting together on the garden steps? Lubormirsky told Reuters that, too, was a dream come true:
I said, 'Listen, just before you go in, let's sit down on these stairs.' And [Meghan] just slumped in between [Harry's] legs, and there was this moment where they were just laughing, because they were joking about how they were exhausted and finally it's all over. And they just looked at each other, and they were just laughing, and it was a beautiful moment.
Of course, it definitely doesn't hurt that both Meghan and Harry are more than used to posing for photographers, but as anyone who watched the wedding could plainly see, they were also totally in love. And that's definitely something that shone through in all of the photo of their wedding day.
In a follow-up post on Instagram, Lubomirski wrote that photographing the royals had "been a beautiful chapter in [his] career and life, that [he] will happily never forget," and it definitely sounds like he had quite the experience. Yet as dreamy and beautiful as the photos look, his behind-the-scenes commentary was a reminder that, there were still some moments when being a parent at the royal wedding looked just like being a normal parent anywhere else. Even princes and princesses need to be bribed every now and then, after all.