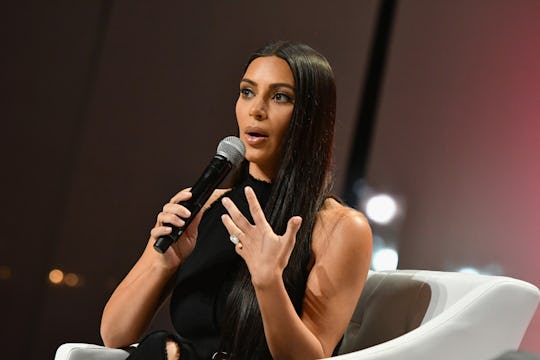 Slaven Vlasic/Getty Images Entertainment/Getty Images
The Same Man Who Assaulted Gigi Hadid Reportedly Assaulted Kim Kardashian, & It's Horrible
How many celebrities could one man possibly reportedly harass or assault before finally facing real consequences? Two? Three? What about 10? Because Vitalii Sediuk, the man who forcibly grabbed model Gigi Hadid last week, reportedly assaulted Kim Kardashian... for the second time. Romper's request for comment from Sediuk's attorney was not immediately answered. And this is nothing new; he's allegedly been harassing celebrities since 2011, and nobody seems to be doing much about it. Marie Claire has reported that after picking up Hadid at Milan Fashion Week, Sediuk allegedly turned up at Paris Fashion Week where he ran up to Kardashian on a sidewalk and attempted to kiss her butt. I don't mean he told her she's brilliant and he loves her book of selfies, I mean he literally tried to put his mouth on her posterior. As with the Hadid incident, the whole thing was caught on film.
Incredibly, this isn't even the first time that Sediuk has been accused of assaulting Kardashian; during 2014's Paris Fashion Week, he tackled Kardashian, and his representative confirmed it to The Wrap. One would think that repeatedly committing high-profile assaults on camera and readily admitting his guilt to the press would have landed Sediuk in quite a bit of hot water, but he wasn't charged with anything. Seemingly emboldened by the lack of consequences, he attacked Ciara just days later, according to E Online, stripping down to a thong and hugging her against her will outside a Valentino show.
Indeed, this is just the latest in a pattern of abuse against celebrities that started almost innocently. Remember when Madonna caught hell for saying that she "loathed" the hydrangeas a well-meaning fan had gifted her with? It turns out that it was Sediuk who gave them to her, knowing full well that she hated that particular flower. Things quickly escalated in 2012, when Sediuk closed a red carpet interview with Will Smith for Ukrainian TV channel 1+1 by kissing the actor without consent. Sediuk's first televised harassment earned him a slap from Smith, but no charges.
In 2013, Sediuk crashed the Grammy Awards stage, was arrested for trespassing, and received a suspended sentence. Far from having learned his lesson, he attempted to crash the Academy Awards two weeks later. The following year, he reportedly climbed under America Ferrera's dress at Cannes, allegedly shoved his face in the crotches of Bradley Cooper at the SAG Awards, Leonardo DiCaprio at the Santa Barbara International Film Festival, and Brad Pitt at the Maleficent premiere. Astonishingly, it wasn't until the incident with Ferrera that Sediuk was fired by 1+1, and he only faced misdemeanor assault charges for the incident with Pitt because his hand happened to come into contact with Pitt's face during the ensuing scuffle.
In May of 2014, Sediuk pleaded no contest to the battery charge, and was sentenced to three years' probation and one year of psychological counseling. Back at Cannes 17 months later, he kissed Miranda Kerr against her will. Let me be clear: this man is not a "prankster," an "antagonizer," or a "red carpet crasher," as he's been referred to by various outlets: he has been accused (and convicted) of repeatedly sexually harassing people. These aren't jokes, they are acts of sexual assault, and clearly a couple of restraining orders and some fines have not deterred him.
This isn't a case of a wacky reporter trying to get famous by acting crazy in front of the media, this is a dangerous person who is motivated by power, like all sexual assault perpetrators. Committing these acts on the red carpet is part of his modus operandi; his victims are on display, and any retaliation on their part could be cast in a negative light (just look how scornful some were of Smith's reaction; he was accused of everything from ignorance of European customs to homophobia for defending himself against Sediuk). It's unfortunate that, for whatever reason, so many of the celebs who have fallen victim to his alleged harassment feel as though they can't take action against him.