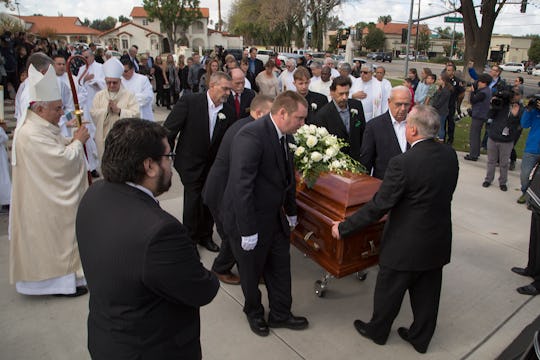 The San Bernardino Shooters Did Not Post Extremist Messages To Facebook, FBI Director Says
FBI Director James Comey announced Wednesday that the San Bernardino shooters did not post extremist messages to Facebook or other social media sites, according to the Daily Beast. Further, Comey also said that there is still no evidence that the San Bernardino shooters were acting as part of an organized terrorist cell like the Paris attackers were, according to a tweet from BuzzFeed news. Rather, the couple talked about their support for the jihad through private messages, according to the tweet.
In a press conference Wednesday, Comey said the shooters, Tashfeen Malik and Syed Rizwan Farook, "were communicating online, showing signs of commitment to jihad," according to BuzzFeed News. "These were direct, private messages. [There's] no evidence of posting on social media." The couple was killed after their attack on the Inland Regional Center left 14 people dead and wounded 22 others, according to Fox News.
The update is contrary to what media and right-wing politicians had previously reported. It makes it clear that the shooters were inspired by the ISIS' messages rather than organized by the group itself, according to Reuters.
Comey also said that ISIS has "revolutionized" just what terrorism means. He said that ISIS is a terrorist group that the FBI will have to evolve to deal with because of the way ISIS uses social media and the internet to share its propaganda and recruit followers, according to Reuters:
Your parents' Al Qaeda was a very different model than the threat we face today.
Comey said that the government does not comb the private messages or emails of Americans, and both of the shooters were Americans (Malik, who was Pakistani, came to the U.S. through a fiancée visa). Since the shootings, President Barack Obama has ordered a review of the fiancé visa program, according to Reuters.
A Facebook spokesperson told BuzzFeed that it saw an account that belonged to one of the shooters post public messages praising ISIS, but the spokesperson said the social media site deleted the messages because it violated community standards.
Comey, though, stands by the fact that the couple did not post public messages and kept its radical ideas private. Regardless, he said that their use of private messages is not justification enough to invade the privacy of all U.S. citizens, according to Reuters:
We are not going to break the internet. We are not going to jeopardize people's security.
Images: Getty Images (2)