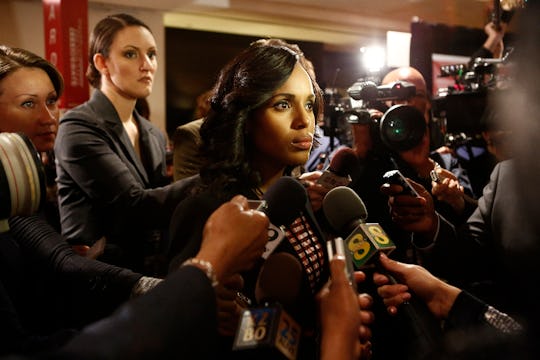 ABC/Nicole Wilder
The 'Scandal' Season 6 Premiere Date Is Here, & The Trailer Is As Dramatic As We Expected
It's been a long wait for Scandal fans. Shonda Rhimes' hit drama finished off its fifth season back in May, and viewers have been eagerly awaiting any news whatsoever about the show's sixth season. Now, the wait is over – the Scandal Season 6 premiere date is here (finally!!), and the first full trailer is just as explosive as we imagined it would be.
Scandal fans were more than a little freaked out when their show was conspicuously missing from the fall line-up. In its place was Notorious, a new ABC show not from Shondaland and thereby messing with the Rhimes-shows-only TGIT we'd come to know and love. Viewers were so verklempt that ABC even went ahead and released a specific promo to clarify what exactly was going on with their Thursday night fall schedule and assuage Shondaland devotees' fears.
The explanation was straightforward enough: the show was pushed to an atypical midseason premiere rather than its usual fall premiere in order to accommodate star Kerry Washington's second pregnancy. Guess it's no more hiding behind giant coats and huge bags for Ms. Pope!
According to the trailer, the show is returning on January 19. But things aren't picking up exactly where we left off. Rhimes earlier confirmed to Entertainment Weekly back in August that the sixth season would pick up on election night. So we're apparently set to find out whether Mellie Grant or Francisco Vargas would win the presidency.
There are two specific big moments in the trailer – which is, unfortunately, under 30 seconds long – that will definitely have everyone talking. First, a cabin explodes. That, paired with a quick glimpse of Fitz comforting Olivia, has us a little worried about whether anyone important will be inside that exploding cabin. The cryptic voiceover also promises something big within the premiere's opening scene, saying we won't know what hit us in the first ten minutes. Yikes.
The other noteworthy moment is the tense confrontation between Mellie and Olivia. Mellie claims she's done running for president, which is a little confusing – if the premiere picks up on election night, hasn't she already won or lost it? Maybe this moment is a flashback. But while Mellie is, apparently, over the election, Olivia isn't. She retorts that she's not done with Mellie's run, taking her former enemy/current ally aback.
What does Olivia have up her sleeve? Why is she pushing back on Mellie's determination to give up the race? We'll just have to stick around and find out on January 19, when Scandal returns alongside the other Thursday night mainstays' winter returns.