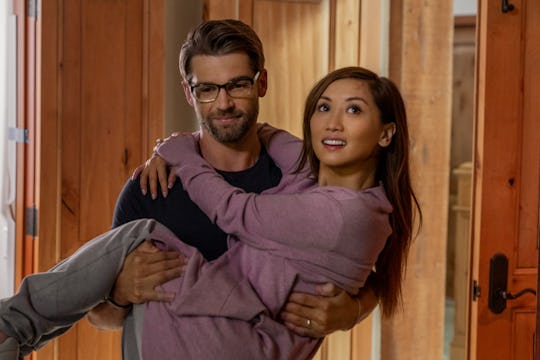 Jack Zeman/Netflix
The Secret Obsession Cast Features Some Television Heavyweights
Netflix's super creepy new psychological thriller takes everything you love about You and brings it up to a 10. If last year was the summer of rom-coms for the streaming platform, then 2019 has proven to be the summer of noir. Following the Renee Zellweger-helmed series What/If is Secret Obsession, a Netflix original movie starring Disney Channel alum Brenda Song in — you guessed it — a very grown-up role. The rest of the Secret Obsession cast is recognizable but not quite as well known as Song, so if you're trying to pinpoint where you've seen the film's actors before, then you've come to the right place.
Secret Obsession opens on Song's character Jennifer waking up very badly injured in the hospital. She can't remember a thing, but her husband Russell is by her side to remind her that she was in an accident and has amnesia. Except, plot twist! That isn't the real Russell and he's the one who orchestrated the accident in the first place. As the trailer reveals, Jennifer's real husband is a whole other person who has seemingly disappeared, and Jennifer has a strong suspicion that fake-Russell is behind it. Giving up the plot twist in the trailer may seem like a strange choice, but Song says that's all by design.
"I think the thrilling part of the movie is trying to help Jennifer catch up," she told Refinery29, adding that just shooting the movie was so scary, she was afraid to walk to craft services alone. Needless to say, it sounds like Secret Obsession manages to cram in plenty of scares even with giving away the plot in the trailer.
Here's more on the cast and where you might have seen them before.