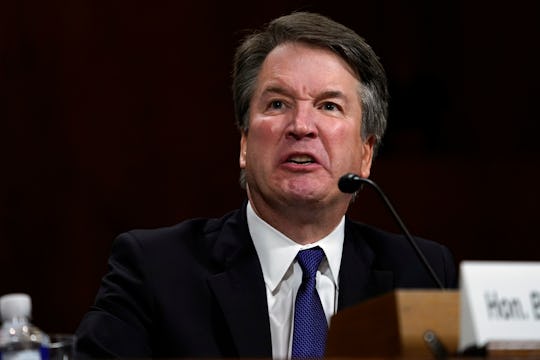 Pool/Getty Images News/Getty Images
The Senate Is Pushing Brett Kavanaugh Through After FBI Investigation
One day after hundreds of Americans mobilized Thursday in protest against Brett Kavanaugh's Supreme Court nomination, the Senate has voted to advance Brett Kavanaugh's confirmation forward to a final vote. On Friday morning, the Senate voted 51-49 in favor of allowing Kavanaugh's nomination to continue, in what CNN has called "a critical test of support" for the SCOTUS nominee. The result came down, in part, to votes of support from Arizona Sen. Jeff Flake and Maine Sen. Susan Collins, according to The Guardian, as well as from West Virginia Sen. Joe Manchin, who was the sole Democrat to offer a vote in favor of the highly-controversial judge.
Friday's vote was considered "procedural," according to CNBC, and doesn't yet mean that Kavanaugh's confirmation is a sure bet. But it is certainly significant: the motion came a day after the senators were able to view the FBI's final report regarding the allegations of sexual assault against the judge, and though it hasn't been made public, Senate Judiciary Committee Chairman Chuck Grassley said Thursday that an FBI investigation found "no hint" of misconduct, and emphasized that "neither the Judiciary Committee nor the FBI could locate any third parties who can attest to any of the allegations."
That certainly doesn't mean that everyone felt satisfied by the investigation though. A number of Democrats voiced concern that the inquiry — which was requested by President Donald Trump — was incomplete or lacking, with California Sen. Dianne Feinstein arguing, according to CNBC, that "the most notable part of [the] report is what's not in it." And on Twitter Thursday, New York Sen. Kristen Gillibrand called the FBI investigation "a sham," and added, "Its purpose was not to find the truth. Its purpose was to give cover."
Unsurprisingly though, Trump himself was pleased with the outcome, and swiftly posted a tweet following the vote that said he was "very proud" of the senators who voted yes.
Given that SCOTUS confirmations are lifetime appointments, it's not exactly a shock that Democrats were never particularly in favor or Kavanaugh taking a seat. But his confirmation became about far more than the usual partisan disagreements after psychology professor and researcher Dr. Christine Blasey Ford alleged that Kavanaugh had sexually assaulted her back when they were teenagers. Ford testified in front of the Senate Judiciary Committee on Sept. 27, and alleged that Kavanaugh had "pinned her to the bed, fumbled to remove her clothes and covered her mouth when she tried to scream," according to TIME, though Kavanaugh strongly denied any wrongdoing.
Ford's testimony led many women to come forward on social media about their own sexual assault experiences, and has been viewed by her supporters as proof not only that Kavanaugh should not be confirmed, but that women still aren't properly heard or believed when they come forward. But while many Republicans voiced uncertainty about her claims, and focused on the potential that Kavanaugh might be being unfairly accused, President Trump opted to take his pro-Kavanaugh stance even further. Despite previously referring to Ford as a "credible witness" with a "compelling" testimony, at a Mississippi rally Tuesday, the POTUS mocked Ford's claims in front of the cheering crowd, according to CNN, and said,
'How did you get home?' 'I don't remember.' 'How'd you get there?' 'I don't remember.' 'Where is the place?' 'I don't remember.' 'How many years ago was it?' 'I don't know.' ... 'What neighborhood was it in?' 'I don't know.' 'Where's the house?' 'I don't know.' 'Upstairs, downstairs, where was it?' 'I don't know. But I had one beer, that's the only thing I remember.'
Just in case there was any confusion at all though about where the president stands on believing women who have made allegations of sexual assault against men, Trump doubled-down in his further comments, and said that, because of her claims, "a man's life is in tatters. A man's life is shattered."
Though Friday's vote is certainly a win for Kavanaugh and his supporters, it doesn't necessarily indicate that his confirmation is a sure bet. Both Manchin and Collins have declined to indicate how they intend to vote tomorrow, according to The Guardian, and though they voted yes Friday, it's possible they could change their position ahead of the final tally. But, given that Sen. Flake has indicated he'll be supporting Kavanaugh, and Sen. Murkowski has confirmed that she won't, both Manchin and Collins would have to vote against him if he were to be voted down overall (either one voting yes, The Guardian noted, would secure Kavanaugh's SCOTUS spot).
Either way, those hoping for a different outcome are still encouraging Americans to contact their senators and urge them not to support Kavanaugh. So while the odds currently do look to be in his favor, until the final votes are cast, it's still too soon to say that he's in the clear.