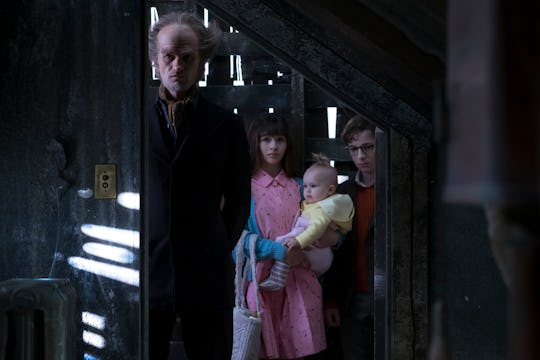 Netflix
The 'Series Of Unfortunate Events' Trailer Is Here & Neil Patrick Harris Steals The Show
After months of anticipation – and numerous shorter teasers and promo images – the Series of Unfortunate Events trailer is here in its full glory. Like most of the promotion for the new series, the trailer goes heavy on Neil Patrick Harris' Count Olaf and for good reason. NPH's bearded, villainous uncle totally steals the show.
The massively popular children's/YA book series was first brought to life over a decade ago on the big screen, with Jim Carrey in the iconic role of Count Olaf terrorizing the Baudelaire orphans, Violet, Klaus, and Sunny. The novels' success was due in large part to the fact that they were wholly unique among other stories crafted specifically for the younger generation. Daniel Handler (as "Lemony Snicket") crafted a gloomy, gothic narrative, consistently eschewing the typical children's literature trope of a guaranteed happy ending. The Baudelaires' adventures are, after all, unfortunate – it's right there in the title.
The series of books follows the Baudelaire children as they attempt to evade their evil relative, who transparently attempts to kill them and steal their family's fortune – the very reason he took them in after their parents' untimely deaths in the first place. Try as they might, the Baudelaires repeatedly fail to permanently escape the clutches of the horrible (but hilarious) Count, who tries out increasingly outlandish plots (complete with elaborate disguises) to foil the trio of kids.
The full trailer, at nearly two and a half minutes, perfectly captures all of the most iconic aspects of the book series.
Count Olaf's pointy-bearded, heavy-browed look is flawless, rendering Harris near-unrecognizable. On top of Olaf's great rendering, the show itself is visually impressive, capturing the incredibly gloomy tone of the books with the consistently gray and cloudy landscape. The trailer is also really funny, largely thanks to Olaf's ridiculously over-the-top lines (and NPH's great delivery of them).
The Emmy- and Tony-winning NPH is a master of transformation, so he's a perfect choice for Count Olaf, who consistently transforms himself as part of his schemes. In this trailer alone, we see at least four of Olaf's various incarnations, including Captain Sham, Stephano, and Shirley the receptionist.
The action and adventure-packed, visually impressive trailer has definitely ramped up the excitement for January 13, when the first season of eight episodes is set to debut on Netflix.