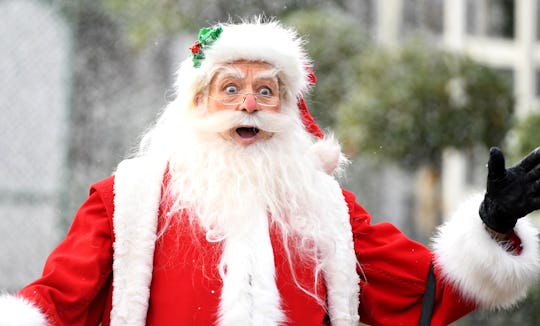 Stuart C. Wilson/Getty Images Entertainment/Getty Images
The "Signs Santa's Burned Out" Hashtag Shows That Holiday Burnout Is So Real
The holidays are about spending time with family and maybe basking in the glow of a perfect Christmas tree. But this time of year is also about a laundry list of never-ending holiday tasks. And let's face it, there's only so many white elephants, cookie exchanges, and parades one person can go to with out struggling a bit. Everyone gets burned out. Even Santa. Need proof? Just take a look at this tongue-in-cheek hashtag that's floating around on Twitter. The #SignsSantasBurnedOut shows that holiday burnout is so real.
When you think about it, the big guy's got a lot on his plate. And, it's not just cookies that I'm talking about. If you spent the whole year ordering elves around and then schlepping around the globe to deliver toys to all the good girls and boys in one short night, you might be a little tired too.
Twitter users far and wide are playing along and giving some of their best responses. Take a look.
And really they just get better from there. Perhaps people are curing their own holiday burnout with a little dig at the man in the red suit.
And of course there's this one that's a great reference to National Lampoon's Christmas Vacation.
But in all seriousness, holiday burnout is a real thing, and more people suffer from it that you might realize. Perhaps you've even struggled with it yourself.
A study released in November 2018 by the mattress company Slumber Cloud, reveals that nearly a third of Americans suffer from "festive burnout" before Christmas even arrives, according to news service SWNS.
It's all in the numbers. During the holiday season, the average person will spend 13 hours shopping, nine hours and 17 minutes cooking, seven hours decorating, and another nine hours simply preparing for the big day, according to the survey as SWNS reported.
Luckily, there are some things that you can do to avoid the dreaded holiday burnout, at least, until after the season's major holidays have passed. (Who needs New Year's Eve, anyway?) According to U.S. News & World Report, prioritizing what really needs to get done, as well as what you most want to get done, picking out the highlights and positives in each day, taking time every day to decompress, and, of course, taking plenty of deep breaths can all help you make it through the holiday season — and actually enjoy it to boot.
But back to Santa. If anything, this trending hashtag of #SignsSantasBurnedOut is a reminder for everyone to slow down and laugh a little. After all, the holidays will be here and over as fast as you can say jingle all the way.
This first-time mom wants to have a home birth, but is she ready? Watch how a doula supports a military mom who's determined to have a home birth in Episode One of Romper's Doula Diaries, Season Two, below. Visit Bustle Digital Group's YouTube page for the next three episodes, launching Mondays in December.