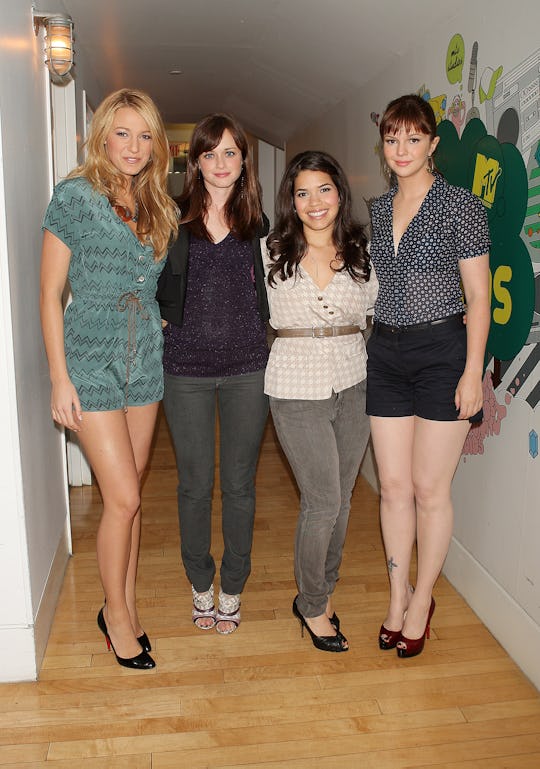 Scott Gries/Getty Images Entertainment/Getty Images
'The Sisterhood Of The Traveling Pants 3' Might Be OTW, & Fans Are Definitely Freaking Out
The Sisterhood isn't over yet, friends. The Sisterhood of the Traveling Pants 3 is probably going to happen — at some point — and fans are really freaking out over the news. That's right — Alexis Bledel told Jimmy Fallon on The Tonight Show on Thursday that the cast pitched a third Sisterhood of the Traveling Pants movie. That's at least a step forward from having no news at all about another Sisterhood movie, so it's understandable that fans are pretty excited by this latest bit of information.
The first Sisterhood of the Traveling Pants movie debuted way back in 2005, according to E! News. At the time, I was a teenager in high school, and I know I definitely related to the characters and everything they went through together. The second film in the franchise came out in 2008, and showed the girls — Tibby, Bridget, Lena and Carmen — as they adapted to being college-aged young women instead, and facing all the challenges that transition entails.
There's no word yet on where exactly the Sisterhood girls will be in their lives in a third installment, and whether it would follow the events of the book series of the same name. But considering all of the main Sisterhood cast members are married and/or have kids, there's always a chance that fans will see the girls as moms in a new movie as well.
Think about it, Amber Tamblyn, who played Tibby, is married and welcomed a daughter in February 2017, according to People. Alexis Bledel, Lena in the Sisterhood movies, is also married and had a son in the fall of 2015. Blake Lively, also known as Bridget, and her husband, actor Ryan Reynolds, have two daughters together, according to Yahoo News.
Finally, America Ferrera — who played Carmen in the first two Sisterhood films — is expecting her first child with her husband. In fact, Ferrera said her costars recently gave her some advice on motherhood, according to People. How adorable is that?
Because it's been 10 years already since the last movie came out, it's not outside the realm of possibility that a significant amount of time would have passed in the Sisterhood 3 movie world. And considering so many of the original fans of the books and movies are in their 20s and 30s these days, many of them are likely married and have kids by now. Seeing that reflected in some of their favorite characters on the big screen, after all this time, would be really memorable for Sisterhood fans the world over.
Fans are absolutely pumped by the news that a third Sisterhood movie could be happening in the near future, but keep in mind, Bledel only mentioned on The Tonight Show that the idea has been pitched. There's a whole lot of steps in between a movie being pitched and it finally showing up in theaters. First it has to be written, then all of the actresses have to be on board and available, and if that all happens, the whole thing has to be filmed and produced. So even if the pitch is accepted tomorrow, fans won't be getting a third Sisterhood of the Traveling Pants movie super soon. But at least there's hope now, right?
In fact, Bledel isn't the only one who mentioned a possible third movie very recently. When Entertainment Tonight's Nischelle Turner spoke with Lively at CinemaCon on Thursday, the actress said another installment of the Sisterhood movies "could really happen," according to Entertainment Tonight online. Lively continued:
I think that people who love the movie want to see it. So, I mean, fans have gotten bigger movies made.
She also added, according to ELLE:
Deadpool is all thanks to the fans. So I'm saying we'll do it.
Saying "we'll do it" seems like a pretty firm commitment on Lively's part, and if all of the Sisterhood stars are in, it's practically guaranteed if you ask me.
The Sisterhood actresses still seem to be close in real life, and getting the chance to work all together again would probably be a huge treat for them. Bledel told Fallon that the cast mates really do keep in touch; they're just all busy with their lives these days. Bledel said, according to TODAY:
We don't get to see each other a lot because everybody's work(ing) or (has) family and everything, but when everybody is in town we do, and we just pitched a third movie and I hope it comes together...It would be so great.
I personally agree that a third Sisterhood movie would be great, and other fans definitely do as well. Fans have waited all this time for news of the franchise, and there's finally a light at the end of the tunnel. We're counting on you to make it happen, Sisterhood stars.