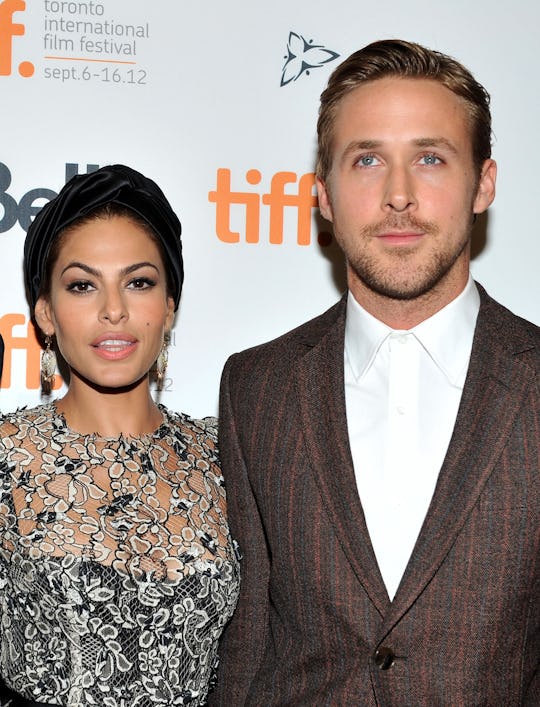 Sonia Recchia/Getty Images Entertainment/Getty Images
The Special Reason Eva Mendes & Ryan Gosling's Daughters Share A Name
As far as envy-inducing celebrities lives go, Eva Mendes definitely seems like she's got it made. She has a successful acting career, a fashion and beauty line, two young children — and, oh, yeah, she's been in a relationship with Ryan Gosling, the dreamy heartthrob immortalized as the internet's favorite swoony, feminist meme, since 2011. In a recent interview with Latina magazine, Mendes discussed life growing up as a first-generation American to Cuban parents, and life as a mother of two daughters, Esmeralda Amada and Amada Lee. Why do Eva Mendes and Ryan Gosling's daughters share a name? The reason is very bittersweet.
After Mendes gave birth to the couple's first daughter in 2014, the actress explained to People that she and Gosling chose the name Esmeralda after the character in The Hunchback of Notre Dame, and that they'd picked Amada as a middle name as a tribute to Mendes' grandmother. But when it came time to pick a name for their now-3-month-old daughter, born at the end of April, Mendes explained that the experience wasn't as joyful as it had been the first time around: only nine days before she gave birth, Mendes lost her brother, Carlos, to cancer. She told Latina that she and Gosling had been considering other names, like Viviana, but after her brother died, she wanted to make sure her youngest daughter's name had a family connection, too:
We went with Amada because it was something we kept going back to. And it was an emotional time with the passing of my brother. We thought how beautiful to go with what made us emotional and with what felt like her. When we looked at her, we thought, 'Aww, Amadita.'
Mendes told the magazine that losing her brother — particularly so close to her daughter's due date — was heartbreaking, but that it was the love and support of her close-knit family that helped get her through:
Losing my brother brought our family closer, and we were already close to begin with. So to just see everybody be there for one another and show up, I feel so lucky to have them. And then they were there for me when Amada was born. We had a funeral service for him and that same week I had the baby. So it was really, really intense and obviously beyond heart-breaking, but also kind of beautiful.
Although giving her second daughter the same first name as her first daughter's middle name might seem a little unorthodox — even as a family tribute — Mendes explained that it's actually not that unusual at all in her culture, and said, "in true Latin fashion, we reuse names all the time. I used to know five sisters that were all Maria del Carmen, Maria Elena, Maria Liliana…." Mendes also revealed that the couple even considered naming the baby Eva (Eva herself shares a first name with her mother), but ultimately decided against it.
Baby name inspiration aside, one thing the famously-private Mendes isn't as open to discussing is her relationship with Gosling, or what he's like as a dad. In a 2015 interview with Today, Mendes side-stepped questions about whether or not he helps change diapers, and said, hesitantly, "that's a given these days, I don't think that's a plus anymore."
Gosling, though, doesn't appear to feel quite as reserved when it comes to gushing about his little family. In an interview with People back in May, Gosling admitted that fatherhood was even better than he thought it would be, and said, "it sounds so clichéd, but I never knew that life could be this fun and this great." And back in December, Gosling also spoke of his love for Mendes, telling Hello!, "I know that I'm with the person I'm supposed to be with." As for what qualities he looks for in a woman, Gosling's answer was just as decisive: "that she's Eva Mendes. There's nothing else I'm looking for."
One thing Mendes is happy to share though? All the ways in which motherhood has helped her become a better person. Mendes told Today that Esmeralda had become "her moral compass," and that she loves "being an example to somebody." She explained,
If I'm [thinking], 'oh, what should I wear?' or 'should I do this project?' I think about my daughter — all I have to do is think about her face — and then I know the answer immediately...It's just beautiful to be an example for her.
It's hard to imagine what it must have been like for Mendes to lose someone so close to her right when she was about to give birth, but it definitely sounds like she has a lot of love and support around her — and that, together, she and Gosling are able to provide just as much love and support to their two daughters. They might still be very young, but the story of their shared name is so sweet, and will be a special bond they'll share forever (maybe even with any future siblings, too?).