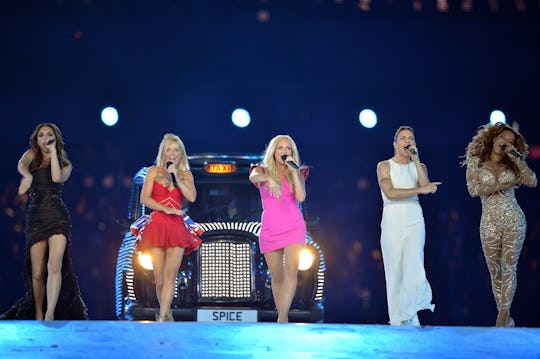 Jeff J Mitchell/Getty Images Sport/Getty Images
Mel B Said A Spice Girls Reunion Is "Finally" Happening, So Get Ready To Spice Up Your Life
If you're a millennial, then chances are the Spice Girls were a pretty big deal to you in the 90s. (Or perhaps you were more of a Backstreet Boys/N*Sync person.) Whether you were personally a fan, you're probably well-aware of just how beloved this iconic girl band was to millions back in the day. For years, rumors have come and gone of Baby, Posh, Scary, Sporty, and Ginger Spice coming together for a tour — just like the good old days. However, the Spice Girls returning to the spotlight seems like it might actually be happening in the near future. That's because the Spice Girls are officially doing a reunion tour, as Glamour reported, so get ready to spice up your life.
Excitement surrounding the fact that the Spice Girls are really coming back this time ensued after Melanie Brown — aka Mel B, aka Scary Spice — made a recent appearance on The Today Show, as Glamour reported. "I'm the only one that keeps on saying we're going to be performing, which we are gonna be performing," Mel B. told Hoda Kotb on Wednesday. "Finally, they've got it together."
While co-hosting "Hoda & Mel B with the Scoop," Scary Spice also addressed statements from Victoria Beckham that she was not going on tour. (Vogue reported in February that Beckham said, "I'm not going on tour. The girls aren't going on tour.") "She's always bloody saying that," Brown said. "Stop it! We are touring. Yes, we are going to be doing performances together, for sure."
Twitter was totally here for the big news. "Im so Excited," one person tweeted, along with a GIF of Mel B freaking out as a judge on America's Got Talent.
"I'll be there ..." another person declared on Twitter.
"I am ready to slam my body down and zigga zig ahhhhhhhh!" another Twitter user wrote.
Yet some were understandably hesitant to get their hopes up just yet. "Mel B makes for a great interview but always, always, ALWAYS take what she says with a grain of salt," one Twitter user cautioned.
"Mel B also did say there were going to the royal wedding, but only Victoria was actually invited," another person pointed out via Twitter. "Statements like these need to be verified by @MelanieCmusic and @victoriabeckham. Only then is it confirmed and official."
For the record, three of the five Spice Girls were actually invited to the May 19 nuptials between Prince Harry and Meghan Markle, Page Six reported: Posh, Baby, and Ginger.
Yet another person tweeted, "When tickets go on sale, then I'll believe it cuz this rumor keeps popping up and the fans have learned to turn a blind eye at this point. Show us the receipts, Mel."
Of course, this isn't the first time Mel B has hinted at something that never came true. In February, she indicated that the Spice Girls would be performing at the royal wedding. And yep, that never happened. However, it is worth noting that even Victoria Beckham's publicist has recently indicated something could be in the works. "We have enjoyed a wonderful afternoon catching up and reminiscing about the amazing times we have spent together," the Spice Girls said in a statement to Entertainment Weekly, through Beckham's publicist, Jo Milloy. "We are always overwhelmed at how much interest there is across the whole world for the Spice Girls. The time now feels right to explore some incredible new opportunities together."
It's also worth mentioning, as The Sun reported, there aren't currently any concert dates set — so I really, really hope Mel B. isn't messing with us again.
I don't know about you, but the Spice Girls will always have a special place in my heart. Aside from listening to their CD on repeat and watching my VHS of Spice World roughly 1 million times, my BFF and I would spend hours making up elaborate rollerblading routines to Spice Girls hits in her unfinished basement. "Wannabe," "Spice Up Your Life," "2 Become 1," and "Say You'll Be There" were among our all-time favorites. For me, the remote possibility of the girls coming to perform these iconic songs is enough to get me pumped. Because I'll tell you want I want, what I really, really, want: A legit Spice Girls reunion. Let's make it happen, girls!