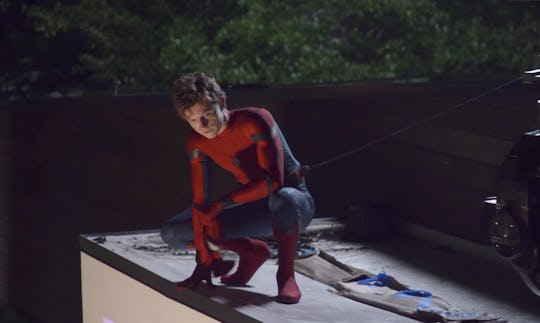 The 'Spider-Man: Homecoming' Cast Dishes On Tom Holland Being A Superhero In His Own Right
Since its inception in 1962, few actors have been lucky enough to fill Spider-Man's super suit: first Tobey Maguire, then Andrew Garfield, and now, 21-year-old Tom Holland has taken over as the youngest Peter Parker yet. The re-envisioned high school student turned fan-favorite superhero debuted in this summer's Spider-Man: Homecoming, with Tom Holland as the lead, and was considered by some one of the best Spidey movies to date. Even the cast of the movie and co-creator of the character can't stop applauding Holland and his work in the film in this exclusive clip to Romper, making Holland truly sound like the real superhero.
Spider-Man: Homecoming, which is available on Digital HD, 4K, Blu-Ray, and DVD now, translates the classic superhero comics into a story that is modern and fresh, something fans and critics both admired upon its release. It transforms Parker into a lovable 15-year-old, "friendly neighborhood Spider-Man" from Queens. Aside from his web-slinging superpowers, Parker is just an ordinary teenage kid, which opens up the film in an entirely new way to a younger generation of comic book lovers and their families. Growing up in London as a "huge, huge fan" of Spider-Man, Holland was one of those kids not too long ago.
Which is definitely part of why he clearly took to the role with so much heart. In an exclusive clip to Romper, Holland's co-stars Michael Keaton and Zendaya, and co-creator of Spider-Man, Stan Lee, admirably speak on the attitude and passion Holland brought to the role. "If anybody were to be a real Spider-Man in real life, I'd want it to be Tom," Zendaya, who plays MJ, says. Keaton, who plays The Vulture, raves about how intelligently Holland approached the role. "He takes his craft really seriously," the award-winning actor says.
Spider-Man co-creator Stan Lee also played a role in the creation of Homecoming both through his job as the film's executive producer and his cameo as Gary the grumpy neighbor (yeah, you may have totally missed this one). Lee agrees with the cast, and says Holland is well-suited for the role. "He's just a nice, likable guy," Lee said. "Tom is just the way I had pictured Spider-Man being when I created Spider-Man."
Because of his love for the character and his story, Holland supposedly went "ballistic" when he discovered he had landed the coveted role, he told Ellen Degeneres on her talk show in May. After five months of auditioning for the film and six weeks of waiting to hear whether or not he got it, Holland found out about his new role on social media.
"One day, Marvel just posted on their Instagram, 'Go to our website to find out who Spider-Man is.' And that's it. I just found out online; they didn't call me up or anything," he told Degeneres. "My brother Harry, who's pretty savvy with technology and stuff, was like, 'Dude they've probably been hacked, bro. Like they would call you, right?'" Holland's brother finally believed him after Homecoming producer Kevin Feige gave him a call to confirm the good news. "I was like, 'I know, Kevin. You put it on Instagram. Like, I'm 20; do you really think I'm not going to find it?'" he said.
Fans and critics alike have raved about Holland's work as Peter Parker and Spider-Man. Some cite his background in gymnastics and ballet as the keys to his ability to convincingly save the day. The young actor trained as a gymnast throughout his childhood and extensively learned classical dance for two years in preparation for his big break, the lead of the West End production of Billy Elliot: The Musical in 2008.
The film was so successful at the box office, raking in over $333 million in the three months after its release and ranking number one in theaters during its opening weekend, that a sequel has already been confirmed for June 2019. But, in case you can't wait until then to get more of Homecoming, you can check out the exclusive clip from behind-the-scenes of the film above and you can always go out and get Spider-Man: Homecoming, which is available on Digital HD, 4K, Blu-Ray, and DVD now.