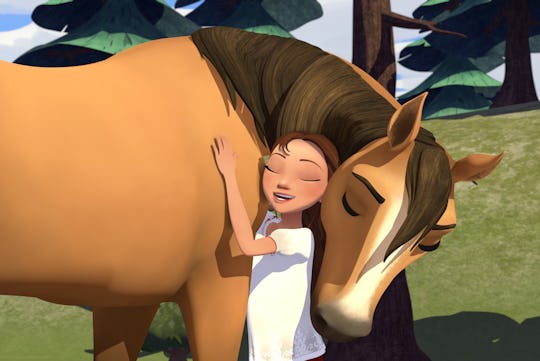 Netflix
Lucky Might Be In Danger In This 'Spirit Riding Free' Season 7 Trailer
Spirit Riding Free returns to Netflix for its seventh season on Nov. 9, continuing the story of Lucky and her beloved mustang Spirit. The new episodes promise even more adventures between the two, but there's some peril mixed in amongst all the fun. This exclusive Spirit Riding Free Season 7 trailer finds Lucky in a little bit of danger — though with her friends around, she's sure to be saved in the nick of time.
As the season summary states, life for Lucky and her crew "may be a little unpredictable, but there's never a dull moment!" The trailer certainly proves that, packing all kinds of excitement into its brief runtime. It opens with a wedding between schoolteacher Kate Flores and Lucky's dad Jim; Lucky and her pals Pru and Abigail cheer as rose petals fall around the bride and groom. The sense of friendship between the three girls continues throughout the trailer. Whether they're riding their horses or heading to school, Lucky, Pru, and Abigail are doing it together.
"My friends and my horse, they're always there to help me," Lucky narrates, and it soon becomes clear that she may need that help. While on a frozen lake, the ice beneath her feet begins to crack, putting Lucky in harm's way.
Spirit is there to sound the call for help, and Pru rushes to the rescue. She tosses a lasso to Lucky so she can grab it before the ice gives way, but it might be splintering too quickly for her to react in time. As her worried friends (both human and equine) look on, Lucky tries to race to shore as the ice continues to crack beneath her. But viewers shouldn't worry too much, because it looks like Pru will do whatever it takes to keep her friend safe, including diving onto the ice herself.
That's the most fraught scene in the trailer, but there are many more hints about the season to come to look forward to. There will be classroom pranks on April Fool's Day, babysitting challenges, and some less terrifying skating attempts, too. Lucky also ends up on a hot air balloon ride gone awry with her Aunt Cora and cousin Julian; though their flight is initially thrilling, a collision with some mountains causes them to go off course. "This is more adventure than I'd bargained for," Aunt Cora announces, but fans might find it's just enough.
Lucky and Spirit have shared six seasons of similar adventures on Netflix. The series began as a continuation of the Oscar-nominated animated movie Spirit: Stallion of the Cimarron, in which the original Spirit's son (also named Spirit) is caught by horse wranglers and brought to the frontier town Miradero. Lucky and Spirit formed a bond that has grown over the course of the show, and in Season 7 they're as close as ever. So even though there might be some hazardous situations to navigate in the upcoming season of Spirit Riding Free, Lucky's friends are always going to be there to help her out.