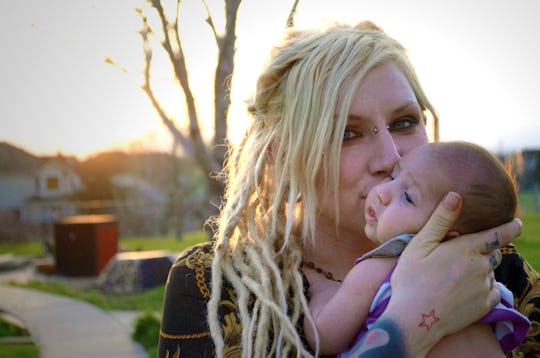 Courtesy of Amy Mitchell
The Spiritual Aspect To Missing Mom Kristal Reisinger's Case Can't Be Ignored
As Up and Vanished dives deep into it's second season, Payne Lindsey and his team of investigators are facing a pretty unique situation. Kristal Anne Reisinger disappeared into thin air back in July 2016, and now that Up and Vanished is joining the search for her they've found themselves smack dab in the middle of a cold case that is all but grounded in a spiritual element. I had the pleasure of talking to the host of Up and Vanished over the phone, and Payne Lindsey told me that the spiritual aspect of Kristal Anne Reisinger's case is something that just can't be ignored — no matter what he or anyone else believes in. As Lindsey explained it, "There is this bizarre spiritual element to this story, and to Kristal, that you cannot deny or ignore, and it's in your face."
Lindsey also went on to explain that he knows this is exactly who Kristal was, and this is exactly who the people of Crestone, Colorado are, too. "The unique part of this is that this is just who Kristal was. This is what this community is. They're not putting it on, they're not trying to be this, they're not pretending to be this," Lindsey told me after I asked if he believed in the supernatural element he keeps running into with this case. "So, I don't really know exactly what I believe in, but I think that if anyone was ever in our shoes doing what we're doing as close as we are to this case, you almost have no choice but to believe it."
If you're not caught up on Season 2 of Up and Vanished, or the Kristal Anne Reisinger case itself, quite a few "signs" as I'll call them seem to be coming through to the people in Kristal's life. For example, in the very first episode, Kristal's 5-year-old daughter, Akasha, whispers to Lindsey, "My mommy's in the spirit world." In Episode 3, Akasha delivered even more when she told one of Kristal's loved ones, "My mom says thank you for loving me."
In the same episode, another investigative reporter, Chris Halsne, tells us a story about a time he visited the drum circle — a location where Kristal was allegedly last seen — and it is extremely chilling. Halsne says: "Did you guys go up by the drum circle? Well, we stopped a little bit up there, and along a river Akasha just stopped and she goes, 'Mommy's here. She wants us to come get her.' I lost it. A little kid doesn't come up with, 'mommy's cold in a cave. We need to go find mommy.' Three year olds don't come up with that stuff. If she's not a conduit for Kristal on the other side, I don't know what is." And these moments with Akasha are just a small piece of the bizarre spiritual happenings as the Up and Vanished podcast continues the search for Kristal.
While Lindsey isn't turning away from the spiritual aspect in this case, he also isn't taking advantage of it. "I'm not calling on psychics asking them what happened to Kristal," Lindsey told me. "That's kind of silly." Silly, sure, but with the signs given to Kristal's family and friends, it would also seem he definitely doesn't need a third party to translate. Everything Kristal has allegedly been sending from the other side has been, well… crystal clear, with zero pun intended. Lindsey seemed to agree, telling me that the spiritual element has made him "feel better about doing" what he's doing in an effort to find out what happened to Kristal.
Since Lindsey was being so open about his feelings when it comes to the spiritual side of Kristal's case, I couldn't help but push for a little more information. As my last question during our phone conversation, I asked Lindsey if he could share what his most chilling experience has been so far while working on Up and Vanished — and not just in the Kristal case, but his time working in the true crime genre as a whole. Unfortunately, as I expected, Lindsey wasn't able to tell me. But he did share that it's something that happened within the Kristal investigation, and that we'll likely be hearing about it very, very soon.
"Let's just say that the most chilling experience I've had has happened this season, and it's continuing to happen right now, and it's talking with a particular person," Payne hesitantly teased. "And don't worry, it won't be a secret for long."
You can listen to Up and Vanished now wherever you prefer to stream and/or download your podcasts from, with new episodes released every Monday.