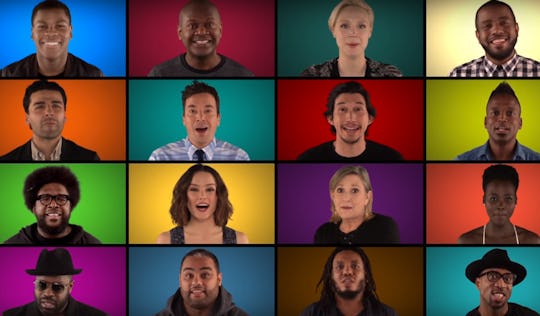 The Tonight Show Starring Jimmy Fallon/YouTube
The 'Star Wars' Cast Did A Cappella With Jimmy Fallon On 'The Tonight Show,' & It Was Even Better Than You'd Think
The Force is with Jimmy Fallon. The Star Wars cast performed a cappella with Jimmy Fallon and The Roots on The Tonight Show, and it's everything a fan could possibly want. The clip includes a medley of John Williams' compositions from the original movies, including "Main Title," "The Imperial March," and "Cantina Band." Entertainment Weekly outlines just how many members of the Star Wars cast appeared with Jimmy Fallon:
The Tonight Show host has had many of the film's cast members on as guests over the last few weeks, including Harrison Ford, Daisy Ridley, John Boyega, and Adam Driver. Those stars appear in the a cappella video, as do fellow Force Awakens cast members Oscar Isaac, Gwendoline Christie, Carrie Fisher, and even Chewbacca.
The official release date for Star Wars: The Force Awakens is Friday, December 18, 2015. Directed by J.J. Abrams, the movie is set three decades after the original trilogy ends. The movie has a 97 percent on the Tomatometer, and Rotten Tomatoes offers a delightfully positive Critics Consensus: "Packed with action and populated by both familiar faces and fresh blood, The Force Awakens successfully recalls the series' former glory while injecting it with renewed energy."
You can watch Fallon's medley here:
R2-D2 and C-3PO singing a cappella? It doesn't really get better than that.
Image: The Tonight Show Starring Jimmy Fallon/YouTube