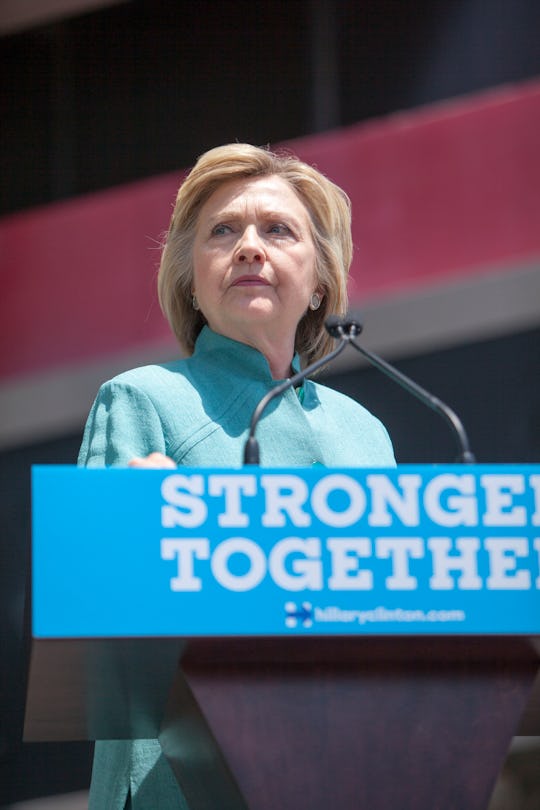 Jessica Kourkounis/Getty Images News/Getty Images
The State Department Reopens The Case Against Hillary Clinton
Though the Justice Department announced just days ago that they would not be pursuing formal charges against Hillary Clinton, the State Department is reopening the case against Hillary Clinton, they announced on Thursday, July 7. According to ABC News, the State Department is opening an internal investigation to look at "possible mishandling of classified information" by both Hillary Clinton and her top aides.
John Kirby, the spokesman for the State Department, told ABC News that the State Department investigation is restarting now that the Justice Department has declined to pursue criminal prosecution against Clinton. Though the State Department originally suspended its review in April to avoid conflict with the FBI investigation, the case is back on. ABC News also speculated that the internal investigation will center on three of Clinton's top aides: Cheryl Mills, Huma Abedin, and Jake Sullivan. In the statement to ABC, Kirby said that former officials call still face "administrative sanctions," which includes a loss of security clearances. Though Clinton was Secretary of State until 2013, a loss of security clearance could impede on her ability to create and form a national security team if she was elected as president. As of right now, Kirby and the State Department announced no completion date for the internal investigation against the presidential candidate.
Two days ago, on July 5, FBI Director James Comey recommended no criminal charges against Hillary Clinton. Though Comey called Clinton's actions "extremely careless," he made clear that in order to warrant a criminal charge, there needed to be evidence that Clinton intentionally transmitted or willfully mishandled classified intelligence. As a result of their investigation, Comey and the FBI found that Clinton had done neither. Because they hadn't found evidence of either, Comey recommended that no charges be brought against Clinton because "no reasonable prosecutor would bring such a case." Two days later, and the State Department will once again decide whether or not there is such a case waiting to be found against Clinton.
Just after the news that the FBI and the Justice Department would not press charges against Clinton, she spoke side-by-side current President Barack Obama. Among the many noteworthy things he had to say about her, perhaps one of President Obama's more poignant statements came when he talked about just how much he believes in the presumptive Democratic nominee as the future leader of our country.
Though news of the State Department's investigation sends us all backwards into a tailspin, it's worth pointing out that Obama's statement at the rally sends a clear message: Regardless of what's going on, he still believes in Clinton as the best future for our country. Depending on your politics you can take or leave it, but the current president standing on your side definitely accounts for something.