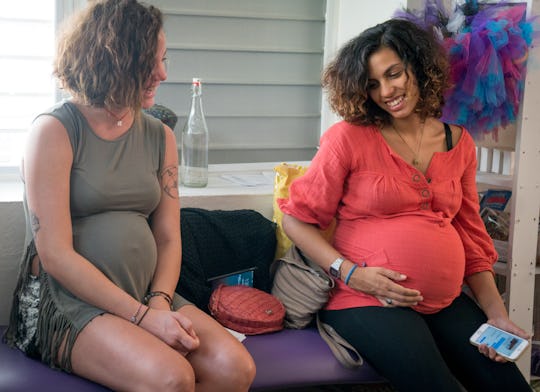 Angel Valentin/Getty Images News/Getty Images
The State Of Maternal Health Around The World & What We Do Next
In the past 25 years, the quality of some mothers' health around the world has increased notably — while maternal health in other countries has, unfortunately, taken a turn for the worse. In a new global report published on Thursday, medical journal The Lancet analyzed the state of maternal health around the world and proposed five key targets that need to be met in order to improve mothers' health across the globe by 2030. The report compiled six academic papers that looked at different facets of maternal health, and the outcome is mixed.
Some of the news is good for the 210 million women who become pregnant annually: Worldwide, maternal deaths have fallen by 44 percent since 1990, and the overall use of maternity services has increased. But not all countries are progressing equally.
The divide between the countries with the highest level of maternal deaths and the countries with the lowest has doubled in size since 1990: In high-income countries, for example, only 1 in 4,900 mothers die during pregnancy or childbirth. In sub-Saharan Africa, however, 1 in 36 mothers face the same fate. Seventy-five percent of women now deliver their newborns with the help of a skilled birth attendant, but almost 53 million women have no trained help during their deliveries.
And while the worldwide maternal mortality rate was nearly halved in the last quarter century, that progress still isn't enough. According to The Guardian, the United Nations' millennium development goals were hoping for a drop of 75 percent by 2015.
One of the current problems in maternal health, The Lancet's report explains, is that healthcare for pregnant women routinely swings between two extremes: women in high-income countries are often experiencing "too much, too soon" (in that their normal pregnancies are being over-medicalized), while women in low-income countries suffer medical help "too little, too late."
Both approaches are harmful: over-medicalizing normal pregnancies (think unnecessary C-sections, the overuse of antibiotics, or routine induced labor) can harm women, raise costs, and perpetuate a disrespectful culture against mothers, whereas the lack of medical attention in a pregnancy (women delivering alone or with doctors lacking evidence-based guidelines or basic equipment) can endanger mothers and their babies.
Both of these problems can be found in high-income and low-income countries, too, depending on whether a community is vulnerable or not. As The Lancet report explains, African-American women living in New York City are twice as likely to die during delivery as women who live in developed Eastern Asia.
The message from The Lancet is clear: maternal health is improving — but not fast enough. To reduce maternal deaths to under 70 per 100,000 women by 2030 (i.e., to meet the United Nations' Sustainable Development Goals), The Lancet says local, national, and global communities will need to do five things:
Improve Quality
Women need access to evidence-backed maternal health services that start with prevention (such as family planning services and access to safe abortions) and respond to local needs as they develop (Do enough hospitals have maternity wards? Are there enough trained staff to deal with maternal needs? Are pregnant women in rural areas receiving care?).
Improve Equity
All women need access to maternal health services, and they shouldn't go into debt or suffer financially in order to receive it. This can be achieved by investing in universal health coverage and ensuring equity among pregnant women.
Improve Health Systems
Countries need to invest in bettering their health systems, from their emergency services to their development of skilled workforces, to make sure maternal health in each country remains resilient despite unforeseen threats (such as Zika).
Improve Financing
Investing in health helps countries' social development and economic growth, according to The Lancet. To accelerate progress, countries need to invest in advancing maternal health.
Improve Evidence
More research needs to be done into the quality of care mothers receive. What are the true outcomes of poor maternal health? What are the best maternal health policies countries can implement? What are the effects of certain laws on women?
Taking a look at the results from The Lancet's deep dive into maternal health is important not only for world leaders, but for pregnant women worldwide. Armed with information on where governments are falling short, women can advocate for better care where it's truly needed. To read the full report, check out the Maternal Health Series online.