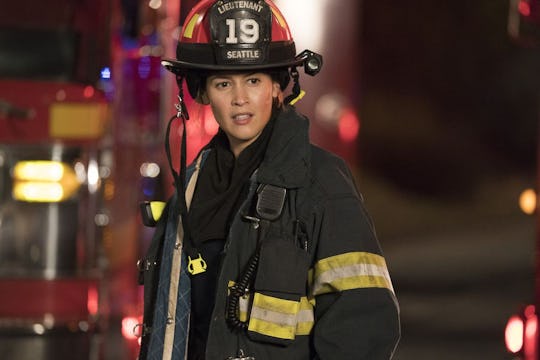 Mitch Haaseth/ABC
The 'Station 19' Trailer Is Here & Features A 'Grey's' Favorite
The world of Shondaland continues to grow with an all-new Grey's Anatomy spin-off titled Station 19. After much anticipation, a trailer for the new series finally aired during Thursday night's episode of Grey's. Unsurprisingly, the Station 19 trailer included Meredith Grey, as well as some new faces you're going to want to get to know.
It was first announced there would be another Grey's spin-off (the first being Private Practice) at the end of Season 13, after Ben Warren sprung into action to go into the burning down hospital to rescue Stephanie and her patient. After his daring heroics no one was surprised to learn Jason George, who plays Ben, would be leaving Grey's to join the new spin-off, which is centered around a fire station in Seattle. However, Ben isn't the main character of the new series. That would be Andy Herrera, played by Jaina Lee Ortiz.
Like all of Shondaland's shows, this one will have a woman at its center. Unlike Ben, Andy's clearly a veteran firefighter, who follows in the footsteps of her father, the Captain of Station 19, Pruitt Herrera (Miguel Sandoval). However, when a mistake out in the field leads to Andy's father ending up at Grey Sloan Memorial Hospital, he decides it's time for him to step down as Captain. That's when Andy realizes it's time for her to step up and take his place.
Andy will presumably be taking over her father's job as Captain, or at least trying to, but just like with any other Shondaland drama, Andy will have other issues to face. Like her fellow firefighter, Jack Gibson (Grey Damon), who she was hooking up with until it was his fault that her father ended up injured. And then to make things even more complicated there's also her longtime best friend Ryan Tanner (Alberto Frezza) who becomes much more than a friend. It seems Andy will quickly find herself in the midst of a love triangle, which will probably only make her job even more complicated.
Of course, just like Grey's, the series won't just be about Andy, it'll be about all the struggles these firefighters face both on the job and off. Also filling out the cast are Barrett Doss as Victoria Hughes, Jay Hayden as Travis Montgomery, Okieriete Onaodowan as Dean Miller, and Danielle Savre as Maya Bishop. The cast of Station 19 is diverse and based on the trailer it's clear that while there will definitely be drama, there'll also be a lot of funny moments throughout the series as well.
Additionally, the trailer also revealed that the first station is actually only three blocks down from Grey Sloan so the potential for multiple crossovers is definitely there. This was already evident in the trailer, when it was Meredith who pulled Andy aside while she was in the hospital with her father and told her to take a second and then "put her game face on." With Meredith's help, Andy was able to work through seeing her father in his hospital bed and making the decision to take on the job he felt he could no longer do.
Although it hasn't been stated yet how often there may be crossovers, showrunner Stacy McKee told Entertainment Weekly that the two shows' writers are open to all crossover possibilities and that those possibilities "are limitless." Plus, one has to expect Ben and Bailey to be seeing each other every now and then since they are still married. So expect to see some more familiar faces on the new series, but maybe not too many, since it is still its own show after all.
You can check out Station 19 when it's two-hour premiere airs at 8 p.m. ET on Thursday, March 22. The show will then shift to its regular 9 p.m. ET slot the following week, with Scandal moving to 10 p.m. ET. The first season is 10 episodes.
Check out Romper's new video series, Romper's Doula Diaries:
Watch full episodes of Romper's Doula Diaries on Facebook Watch.