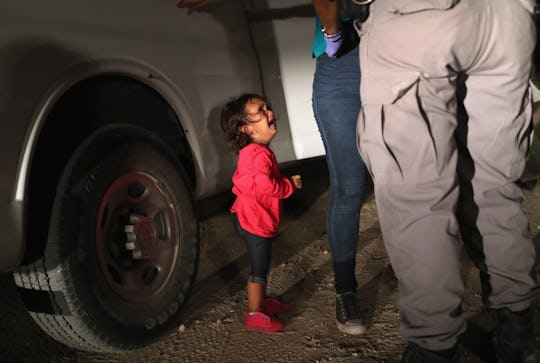 John Moore/Getty Images News/Getty Images
The Story Behind That Viral Photo Of A Crying Toddler At The Border Is Truly Heartbreaking
Current U.S.-Mexico border policies concerning undocumented immigrants and asylum-seekers are under intense scrutiny as more details — and photographs — reach the public. Specifically, it's the "zero-tolerance" immigration policy that's resulted in parents being separated from their children at the border that has caused a massive uproar from people all around the world. While the stories that have since emerged are disturbing to read about, the photos of families being detained and separated from each other are particularly difficult to see. One such image has truly shaken the world, and the story behind that viral photo of a crying toddler at the border, looking up at her mother with tears in her eyes, is truly heartbreaking.
First, a little background: Back in April, Attorney General Jeff Session revealed the controversial "zero-tolerance" immigration policy, as NBC News reported. "I have put in place a zero-tolerance policy for illegal entry on our side of our southwest border," Sessions said last month, according to NBC News. "If you cross the border unlawfully, then we will prosecute you. It's that simple." He continued, according to NBC News:
If you smuggled illegal aliens across our border, then we will prosecute you. If you are smuggling a child, then we will prosecute you. And that child may be separated from you, as required by law.
As you can imagine, this decision is literally tearing families apart — resulting in terrified children who may very well suffer the lasting effects of their trauma for years to come, according to the American Academy of Pediatrics (AAP). "Highly stressful experiences, including family separation, can cause irreparable harm to lifelong development by disrupting a child's brain architecture," the AAP said in a news release. "Toxic stress, which is caused by prolonged exposure to heightened stress, has detrimental short- and long-term health effects."
Between April 19 and May 31 — a six-week period — nearly 2,000 children had been separated from their guardians, USA Today reported. After separation, they're taken to detention centers, where they are kept in cages until the status of their parents are determined and a long-term solution can be figured out. The U.N. has condemned the practice, according to The Washington Post. As the publication reported, Ravina Shamdasani, a spokeswoman for the U.N. high commissioner for human right, said of the policy:
The use of immigration detention and family separation as a deterrent runs counter to human rights standards and principles. The child's best interest should always come first.
Trauma felt by children at the U.S.-Mexico border is evident by the recent work of photojournalists. On June 13, for instance, John Moore — a Pulitzer Prize winner and Getty Images photographer — shared a photo of a toddler asylym-seeker wailing next to her mother, who was being searched by a border patrol agent near the U.S.-Mexico border, HuffPost reported. This heartbreaking image quickly went viral.
Now, the story behind the distraught little girl has emerged — courtesy of the photographer himself. As HuffPost reported, the 2-year-old girl's mother explained that they were Honduran refugees seeking asylum in the United States, and that she and her family had been traveling for a full month to reach the border.
In an interview with NPR, Moore described what went down behind the emotional photos. "She (the mother) was told to set the child down while she was searched. The little girl immediately started crying," he told NPR. "I took only a few photographs and was almost overcome with emotion myself." Moore only had a few moments to speak with the mother before they were loaded into a van with a group of other undocumented migrants and transported to a processing center. It's unknown what became of this woman and her toddler. According to NPR, Moore continued:
As a photojournalist, it's my role to keep going, even when it's hard. But as a father ― and I have a toddler myself ― it was very difficult to see what was happening in front of my lens and thinking what it would be like for my kids to be separated from me.
Needless to say, the image has elicited a strong and emotional reaction.
As a parent, I'm completely sickened and heartbroken over the entire situation. Political affiliation and parties aside, ripping children from their parents is immoral and inhumane. Not to mention, it has long-lasting, damaging consequences. And yet, here we are. And this photo? It makes me shake with rage. Maybe the reason that I'm so affected by this image is because I can so easily picture my own 2-year-old standing in this little girl's shoes. I can imagine exactly how terrified my toddler would be — and how desperate I would be to comfort her in my arms.
Beyond every day Americans and enraged parents, many high-profile individuals have publicly condemned separating parents and children, including Chrissy Teigen, who also happens to have a 2-year-old of her own. "This little girl is the same age as my daughter," the model and cookbook author tweeted. "Luna is the happiest thing. the funniest girl. And she is absolutely terrified to look around and realize she is too far away from us, even for seconds. The fear she would feel here fills me with rage and sadness."
Former First Lady Barbara Bush also expressed her outrage in an op-ed for The Washington Post, "I live in a border state. I appreciate the need to enforce and protect our international boundaries, but this zero-tolerance policy is cruel. It is immoral. And it breaks my heart," Bush wrote, adding the current situation is "eerily reminiscent of the Japanese American internment camps of World War II."
So what can we do to help? You can contact your elected officials. You can make monetary donations to organizations that help — like the Florence Project and Refugee Rights Project, the Asylum Seeker Advocacy Project, the South Texas Pro Bono Asylum Representations Project, the Lutheran Immigration and Refugee Service, the Refugee and Immigrant Center for Education and Legal Services, and more.
Because this practice must end. And now.