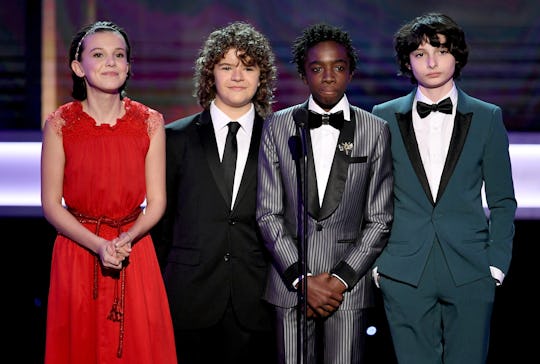 Kevin Winter/Getty Images Entertainment/Getty Images
'Stranger Things' Got Real At The SAG Awards
It was a pretty somber night at the 2017 SAG Awards, considering that they were held at the close of President Trump's tumultuous first full week in office. But the Stranger Things acceptance speech at the SAG Awards was one of the most energetic and empowering moments of the night. The cast was nominated for Best Ensemble in a Drama Series, and they were up against an unbelievably competitive category. Among their fellow nominees were Netflix's reported $1 million budget period drama The Crown, HBO heavy hitters Game of Thrones and Westworld, and the final season of Downton Abbey.
For a nerdy Netflix upstart to land this win was a huge surprise, and you could see it on the faces of the actors as they made their way on stage to accept the award. (Especially the kids, who were so adorably excited, I could die.) But the joy on their faces was just the beginning. David Harbour, who plays Jim Hopper on the show, helmed delivering the acceptance speech on behalf of the 16-actor ensemble, all of whom traipsed up to the stage to listen. He was obviously prepared for the moment with a script in hand, but his surprise at winning was also genuine.
"Oh my god. Oh my god. Wow," he opened. "This is unreal. I'm supposed to start talking." Eventually he got it together enough to start reading off his script and the crowd at the SAG Awards went wild for every single second of it. Here's Harbour's speech in full:
I would just like to say that, in light of all that's going on in the world today, it's difficult to celebrate the already celebrated Stranger Things. But this award from you, who take your craft seriously, and earnestly believe, like me, that great acting can change the world is a call to arms from our fellow craftsmen and women to go deeper, and through our art, to battle against the fear, self-centeredness, and exclusivity of our predominantly narcissistic culture. And through our craft, to cultivate a more empathetic and understanding society by revealing intimate truths that serve as a forceful reminder to folks that when they feel broken and afraid and tired: they are not alone.
We are united in that we are all human beings and we are all together on this horrible, painful, joyous, exciting, and mysterious ride of being alive. Now, as we act in the continuing narrative of Stranger Things, we 1983 midwesterners will repel bullies! We will shelter freaks and outcasts, those who have no hope. We will get past the lies. We will hunt monsters. And when we are at a loss amidst the hypocrisy and the casual violence of certain individuals and institutions, we will, as per Chief Jim Hopper, punch some people in the face when they seek to destroy the meek and the disenfranchised and the marginalized. And we will do it all with soul, with heart, and with joy. We thank you for this responsibility.
Even his co-star Winona Ryder looked impressed by the breadth of his speech, as you can tell by her real-time reactions to his words. Your move, Meryl Streep.