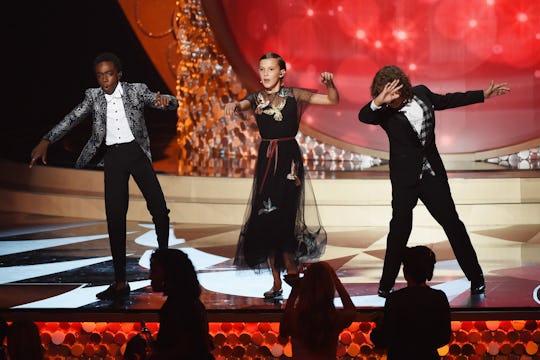 Kevin Winter/Getty Images Entertainment/Getty Images
The 'Stranger Things' Kids Performed At The 2016 Emmys Off Camera, & It's A Must See
The Emmys can be sort of boring, and if you missed the Stranger Things cast dancing before the Emmys on Sunday night, you weren't properly warmed up. Before the show officially kicked off, Caleb McLaughlin, Millie Bobby Brown, and Gaten Matarazzo performed "Uptown Funk" for the crowd, and it was the best thing since, well, since you started watching Stranger Things on Netflix.
How can you hate anything these kids open up? It wasn't televised, but the trio got on stage at the Staples Center in Los Angeles to get everyone going before the show. I mean, hot damn, these kids can move. Not to mention it was the perfectly cheesy tune for a perfectly cheesy intro to the television awards ceremony. Who couldn't use a little "Uptown Funk" in their life now and again?
The cast members also made an appearance later on in the show when host Jimmy Kimmel introduced them to hand out peanut butter and jelly sandwiches to the audience. Yea, things got a little weird over at ABC on Sunday night between the Emmys and the Stranger Things cast.
"It's incredible. I've been watching E! and everything for such a long time now and to actually be here, it's really amazing," Brown said on the red carpet to Giuliana Ranci.
The Netflix cast was more than willing to play on stage and get everyone hyped up. They were just as excited as the crowd was to have them there. Matarazzo, who is just 14 said, "the best part about the ride [has been] meeting everyone that just loves the show because they're all super great to us. I just respect them for coming up to me and asking for pictures and stuff … The fans have been the best part of this ride."
But they did go about attending the awards in style. Matarazzo said about his look, "I just went to this place and got this tux. I got it from a rental place." Because when you're about to dance to "Uptown Funk," who cares what you have on? It's all about the good energy.
His other co-stars were all about the swag, too. Brown rocked a dress from Valentino Red and McLaughlin said on the red carpet that he left it up to pros. "My stylist got me this custom tux from Eden Miles and this custom made bow tie," he told E!.
But it's not about what you wear, it's how good you drop it when you hear "Uptown Funk," and that's pretty much what this Netflix squad did. These kids seem to know what they're doing when it comes to award show season, and I'm sure they'll be making plenty of appearances in the future.