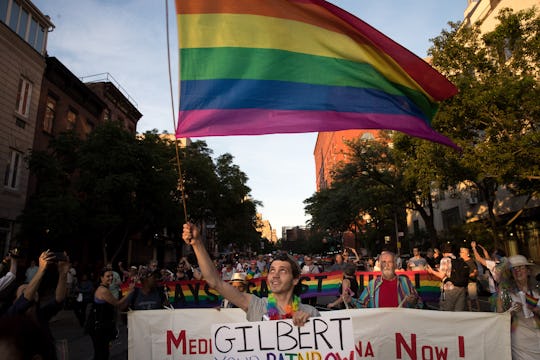 Drew Angerer/Getty Images News/Getty Images
The Supreme Court Just Did Something Huge For LGBT Parents
As the nationwide Pride celebrations wind down, those who believe in acceptance and equality received some good news out of the nation's highest court. On Monday, the Supreme Court ruled that states must list same-sex parents on birth certificates, reversing a form of discrimination previously held up by Arkansas law. It's a huge win for same-sex parents, but the victory did come with its dissenters, including the Supreme Court's newest member, Justice Neil Gorsuch.
An Arkansas law had previously prevented both parents in a same-sex marriage from appearing on their child's birth certificate, with the Arkansas Supreme Court ruling that the law was not discrimination, but merely a recognition of biology. That explanation didn't hold up, however. Turns out, that the law wasn't so concerned with biology when it came to parents in a heterosexual partnership. As Slate pointed out, if a woman who was married to a man became pregnant via artificial insemination, health officials in Arkansas still listed her husband, not the sperm donor, on the birth certificate. In fact, the law required it.
The listing on a child's birth certificate can be incredibly important. As the lawyers for the plaintiffs, a lesbian couple who had planned their child's conception together, wrote,
A child's birth certificate affects parental decision-making authority in the medical and educational context. For example, some Arkansas public schools allow only those parents named on the child's birth certificate to receive educational information absent a court order.
So the Supreme Court reversed the Arkansas law. Monday's decision in Pavan v. Smith reaffirmed the Court's 2015 decision in Obergefell v. Hodges, the landmark decision stating that same-sex couples have the same marriage rights as opposite-sex couples. As the court confirmed Monday, same-sex couples don't just have the right to a marriage license. They also have the right to all the benefits that come with marriage, including a listing on birth certificates.
Monday's decision was not signed by any particular justice, although three justices did dissent. Those were Justices Neil Gorsuch, Clarence Thomas, and Samuel Alito. Gorsuch, who joined the Supreme Court this year after being nominated by President Donald Trump, wrote the dissent, giving one of his first indications of the type of justice he will be, and worrying many civil rights groups.
Still, at least for today, the news is great for same-sex parents who are equal partners in loving and caring for their children, and just wanted to be treated that way under the law.