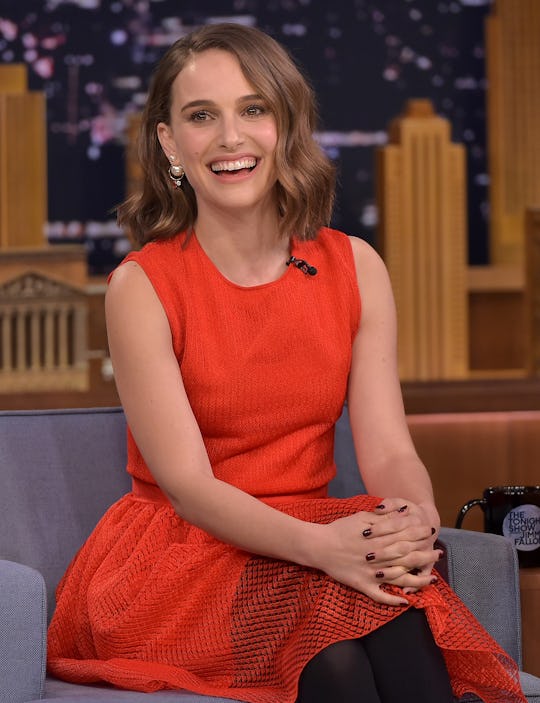 Theo Wargo/Getty Images Entertainment/Getty Images
The Surprising Reason Natalie Portman Won't Show Her Son Her 'Star Wars' Films
Although Natalie Portman finished up her role as Queen Padme Amidala in the trilogy of Star Wars prequels more than a decade ago, Portman's role has made headlines again: because she won't let her son watch the franchise! So what's the surprising reason Natalie Portman won't show her son her 'Star Wars' films? Because she dies.
On Jimmy Kimmel Live! last Thursday, Portman admitted her 5-year-old son Aleph has not seen any of the Star Wars trilogy, despite being a fan.
He has not but he knows about it, of course. Yeah, it's kind of a shame, because when I made it I was like, 'This is going to be the coolest thing one day when I have kids, I can show them.' And boys, of course, are obsessed with it and know all about it before they've seen it. Then I realized, I die in the movies. So I feel like it's kind of a scary thing to show your kid.
In the interview, Kimmel joked "It's worse if he likes it!" At the end of Star Wars: Episode III - Revenge of the Sith, Portman's character, Padme, dies giving birth to twins Luke and Leia Skywalker.
Portman first took on the role of Padme in Episode I - The Phantom Menace in 1999, Star Wars: Episode II - Attack of the Clones in 2002, and Star Wars: Episode III - Revenge of the Sith, in 2005. The final film in the trilogy is why Portman refuses to show the franchise to her son.
Portman could have shown her son the movie if the writers had not gone against the trilogy's continuity and killed Padme off. In Return of the Jedi, Leia has memories of her mother, which shouldn't be possible if Padme died during childbirth.
Portman isn't the only celebrity who won't allow her kids to watch the movies she's in. Julia Roberts wouldn't let her then 7-year-old twins watch her play the Evil Queen in the family film Mirror Mirror. Who knows how long it will be before they can watch Roberts' most famous role as a sex worker in Pretty Woman.
And Blake Lively recently said in a radio interview in Australia that she hopes her 2-year-old daughter never watches the shark film The Shallows, which came out earlier this year. "I would be so traumatized if I saw my parents fighting for their life for an hour and a half, that would be pretty devastating," Lively said.
All parents just want to protect their kids from the most horrifying parts of the world — even if they're make believe.