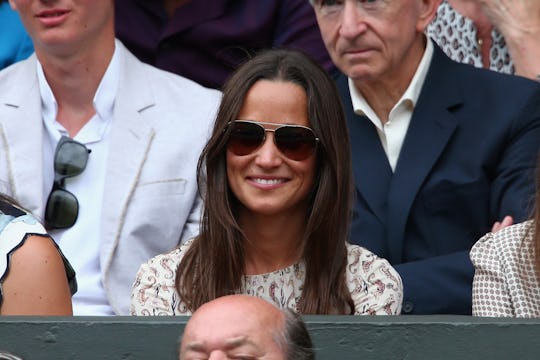 Clive Brunskill/Getty Images Sport/Getty Images
Pregnant Pippa Middleton Rocked The Cutest & Chicest Swimsuit — Here's Where To Get It
Pippa Middleton has always been a bit of a style icon. I mean, who can forget her stunning appearance at her sister Kate Middleton's 2011 wedding in her gorgeous bridesmaid dress? And now that she's pregnant with her first child, her status as a fashion icon has gone to the next level. In her new column for Waitrose Weekend, Pippa Middleton showed off her maternity swimsuit and it looks so chic and comfy, fellow expectant moms might be wondering where to get it.
In her newest monthly column for Waitrose Weekend, Middleton revealed that she has been swimming throughout her pregnancy, which allows her to stay active and feel "weightless." "As the months pass, you feel heavier by the day, but being in water gives that floating, light-as-air feeling that soothes and relieves the body, counteracts increased back strain, and stretches the legs from the growing bump," Middleton wrote in the column.
But perhaps the best thing about Middleton's newest column is the main photo, where she poses in the most striking one-piece bathing suit in a swimming pool. And someone has to be wondering where Middleton's maternity swimsuit is from. Luckily, people don't have to look too far; her bathing suit is from the London-based brand, Sweaty Betty, according to Harper's Bazaar. And those people (pregnant and non-pregnant alike) can purchase it online, on sale on Sweaty Betty's website for $84.
The swimsuit is pretty functional for pregnant women, according to Sweaty Betty's website. The one-piece allows for a "streamlined swim," as it is durable, chlorine resistant, has an inner bra for a little more coverage, and offers UV protection, according to Sweaty Betty. Sounds perfect for someone as far along in their pregnancy as Middleton. In this column, Middleton revealed that she is entering her third and final trimester of pregnancy. According to The Sun, Middleton is reportedly due in October.
But the next best thing about her column is that it highlights that pregnant women don't have to stop being active in the summer when the heat becomes a little too much to handle. In the column, Middleton wrote that pregnant women can swim every single day until the end of the third trimester, and is super therapeutic for pregnant women. Additionally, it can provide great exercise all year round. Middleton wrote:
As the summer weather contributes to feelings of bloating and swelling, swimming will keep your body cooler while exercising, something that is a relief in pregnancy, preventing swelling in the arms and legs. But even in the cooler months, temporarily joining a local pool can be worth the investment. If this is the only exercise you do during your pregnancy, you're onto a good thing!
Middleton is right — swimming has been called the "perfect activity for pregnant women," according to What To Expect, if only for all of the benefits and relief it can provide someone who is expecting. Water reduces stress on the musculoskeletal system and "supports the weight of the fetus," according to Fit Pregnancy, thus, relieving a lot of pain. Needless to say, it can provide a lot of relief. Of course, if you have any questions or concerns about swimming during pregnancy, be sure to check with your doctor.
Fans who have kept up with Middleton's pregnancy know that this isn't the first time that she has talked about working out and staying active while expecting. During the past three months, Middleton has been writing about working out during pregnancy for Waitrose Weekend. During her first trimester, Middleton wrote about how doing light workouts (including swimming) helped her feel healthy throughout her first 12 weeks of pregnancy. And during her second trimester, Middleton wrote about how she was able to continue to play (and love) tennis into her pregnancy.
From every single column, it sounds like Middleton's pregnancy has been a breeze for her. Based on how active she has been, the next three months should go just as smoothly.