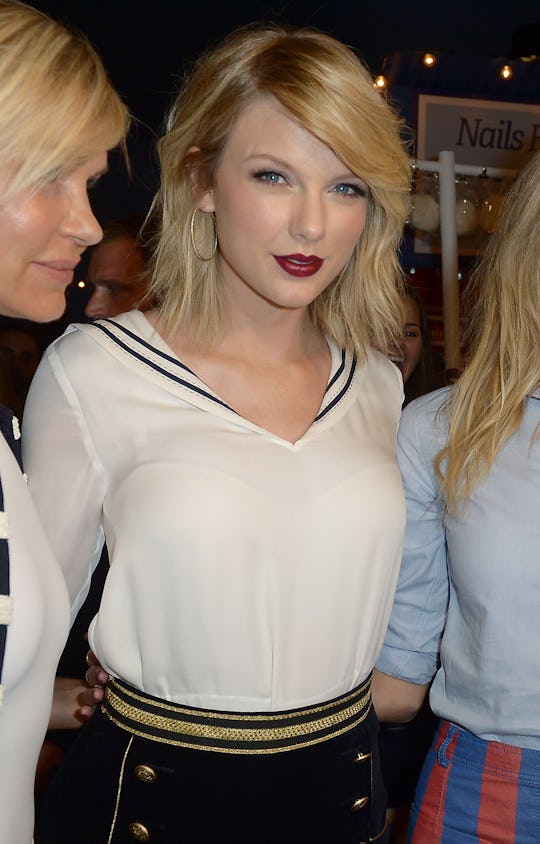 Gustavo Caballero/Getty Images Entertainment/Getty Images
The Taylor Swift Groping Deposition Shows She Isn't Backing Down
The issue of sexual assault has been pervasive in the 2016 presidential election cycle lately, and it's infesting the celebrity realm as well. Taylor Swift, who's among the richest and most powerful pop stars in the world, has been enmeshed in a protracted legal battle with a former Denver radio personality who she says groped her at a meet-and-greet in June 2013. The DJ, David Mueller, was promptly fired over her allegations, and in 2015 sued her as a result. The singer, of course, promptly countersued for assault and battery, and the deposition of Taylor Swift recounting her alleged groping experience was unsealed last week. It details how she felt "frantic" and "distressed" by the alleged incident, and makes clear that she will not cow to Mueller's insistence that someone else violated her that day.
Swift, who is demanding a jury trial, sat for the videotaped interview on July 2016, more than three years after the alleged incident took place in Denver's Pepsi Center before she performed a concert. The deposition is now part of the public record after a judge denied Swift's request for it to remain sealed on Friday, according to The Washington Post. At the same time, the court agreed to keep a photo of Swift and Mueller together at the event — which Swift claims proves that he put his hand up her skirt and squeezed her bottom — from the public eye, for now.
Romper reached both Swift's and Mueller's lawyers for comment but did not immediately hear back.
In the newly unsealed deposition, obtained by Billboard, Swift says that, in addition to feeling violated, she was "completely stunned" that the then-KYGO DJ would touch her in that way.
Right as the moment came for us to pose for the photo, he took his hand and put it up my dress and grabbed onto my ass cheek and no matter how much I scooted over it was still there. It was completely intentional. I've never been so sure of anything in my life.
Despite Swift's reported unwavering certainty that a crime occurred and that Mueller was the perpetrator, he has consistently maintained that it was not he who groped her. Instead, Mueller's initial suit against Swift after he lost his job alleges that one of the radio host's coworkers had "described and demonstrated how he had put his arms around her, hands on her bottom," to Mueller, according to The Denver Post.
"Mueller steadfastly maintains that no inappropriate contact of any kind occurred between him and Ms. Swift," the filing reads.
Perplexingly, both sides have touted the photograph that's at the center of the dispute as proof of the veracity of their respective sides of the story. According to The Hollywood Reporter, Mueller's team has pointed to the fact the Swift is smiling and hugging him as proof that his hand is not up the back of her skirt in the photo, even though it's not visible from that angle. Court documents filed on Swift's behalf contend that "the image depicted in the photograph of Ms. Swift with [Mueller's girlfriend and coworker Shannon] Melcher and Mueller speaks for itself."
No matter how the eventual trial in this case plays out, it's encouraging that Swift has so far refused to back down or to simply settle with her accused assailant to avoid the headache of a legal battle. In doing so, she's sending a strong message to victims of sexual assault everywhere: that their stories deserved to be listened to, and their cases are worth fighting for. Perhaps that's why Swift has also pledged to donate any money she may win from the suit to "charitable organizations dedicated to protecting women from similar acts of sexual assault and personal disregard," according to People.