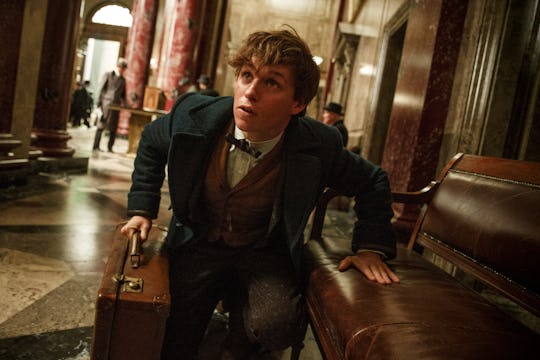 The Teaser Trailer For 'Fantastic Beasts' Is Here, & It's Left Us With Plenty Of Questions
Brace yourself, muggles! Although it'll be almost a year before the film on the big screen, Warner Bros. announced Friday that the first trailer for Fantastic Beasts and Where to Find Them will be released Tuesday, Dec. 15. The still-in-production film is based on J.K. Rowling's 2001 book, written as a prequel/spin-off from the Harry Potter series. The book, published under the pseudonym Newt Scamander was based on one of the books included on Harry's required reading list for his first year at Hogwarts and has since been turned into a full-fledged movie trilogy of its own. According to the film's official synopsis, Eddie Redmayne stars as Scamander, who returns to New York in 1926 from a global expedition looking for magical creatures. Things go awry thanks to an American muggle (otherwise known as a "No-Maj"), and a resulting cascade of tumultuous events that threaten the wizarding world.
The 15-second teaser trailer doesn't tell us much — well, actually, it tells us practically nothing at all. It literally, uh, teases the trailer. But we do get to see the official film title rendering to get us that much more excited to actually see some movie highlights in the first trailer next week, which, considering many people weren't actually expecting to see a trailer for the film this early, is kind of cool, right?
Since Fantastic Beasts is set 70 years before Harry ever arrives at Hogwarts, it's safe to say we probably won't be hearing much about our favorite half-blood wizard and his friends Ron and Hermione. But that doesn't mean there aren't still plenty of things we're hoping to see in the trailer when it goes live Tuesday.
Newt Scamander's Tricked-Out Magical Case
Scamander has brought with him to New York his trusty, magical, old case full of rare magical creatures. Although we already know that's sure to be pretty impressive when it's opened up, it'll be super cool to see how it's been brought to life on-screen (especially when the case will be belonging to swoon-worthy Redmayne, who looks rather dapper in his period getup.)
Wizard Life Across The Pond
The Harry Potter movies have given us plenty of insight into what life is like as a wizard in Britain, but Fantastic Beasts will introduce us to the American world of magic, too. We know that they have different words for muggles, but how else will the two cultures vary? And will tensions between the magic and non-magic worlds be even more apparent?
The Escaped, Endangered Creatures
Newt Scamander may be the expert on magical creatures, but he gets into big trouble when some of the beasts he's collected during his travels escape. Given that they are so central to the story, it'll be really cool to see just what these creatures are, and what kind of commotion they're destined to cause on the loose.
Dumbledore
Can you really have a new Harry Potter-themed movie without even a mention of Albus Dumbledore? Seeing as Dumbledore was born sin the late 1800s, there's a chance he'll make an appearance in the film. He probably won't make the trailer, but I'm crossing my fingers for a cameo anyway.
Fantastic Beasts and Where to Find Them is scheduled to hit theatres November 18, 2016, but at least we'll have the upcoming trailer to tide us over. Or make us even more impatient. You know, one or the other.
Images: Warner Bros.