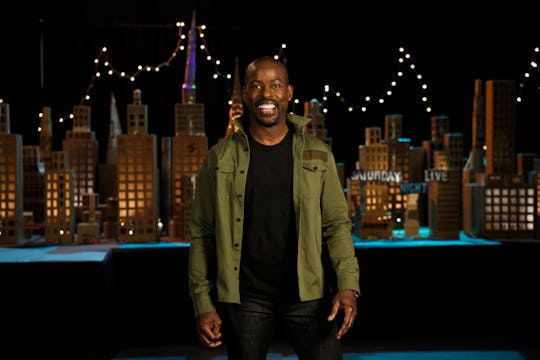 Rosalind O'Connor/NBC
The 'This Is Us' Parody On 'SNL' Will Make You Weep — VIDEO
With Sterling K. Brown hosting Saturday Night Live, it was all but guaranteed that the show would do a sketch on his popular show This Is Us. But I wasn't expecting it to hit quite so close to home. The This Is Us parody on SNL will probably make you cry, but for an entirely different reason than the original does. This Is Us is a heartwarming story about the Pearson family throughout various points in their lives. The SNL version of the show is also heartbreaking, but not in the way that makes you want to call your dad and remind him about how much you love him. It was more in a way that makes you want to call your local representative.
The SNL version of the show is called This Is U.S. and it is all about how the United States government is basically falling apart at the seams. "A drama so unnerving you can't look away," says the voiceover after Brown appears as Dr. Ben Carson. "Dr. Ben Carson, what's wrong?" asks Heidi Gardner. "All of it, all of it!" he whines. Aidy Bryant then appears as Sarah Huckabee Sanders, telling the press that the whole thing about the president having sex with a porn star just didn't happen.
She then peels post-it notes off of her podium saying things like, "Stop lying, Sarah!" and "Seriously, what are you doing?" echoing the post-it notes the show's character Kate would leave herself to stop herself from over-eating. I actually snorted. But the drama hardly ends there.
Pete Davidson then appears, clearly parodying the Kevin character but as Jared Kushner. "United Arab Emirates?" he says on the phone, shirtless and surrounded by empty bottles of brown liquor. "Is there any way I could borrow like 800 million dollars?" The voiceover continues, describing the show as the real life drama that's happening in our government today, saying critics are calling it, "Like This Is Us but without the parts that feel good." And now I'm crying.
When Brown's Ben Carson says "I run the department of housing and urban development," Leslie Jones cracks up laughing. "That's hilarious!" she exclaims. Because it is hilarious, and also incredibly depressing and terrifying. According to the sketch, Entertainment Weekly says, "You'll be laughing through tears. Except without the laughing. So I guess just regular crying." I didn't think there was a way to make This Is Us more uniquely touching to Americans. I guess I was wrong.
The sketch continued with a lineup of urns representing all the "people we've lost" labeled "Spicer," "Scaramucci," and "Hicks," while Aidy Bryant sobbed in front of them. Kate McKinnon even appeared to reprise her excellent Kellyanne Conway impression. The sketch also included a montage of everyone in the cast sobbing uncontrollably. "And of course, there's hella crying." Except Kellyanne Conway, of course. "There's nothing in me," she said.
This may have made you giggle, but the sketch made sure to end on a somber note. "This is U.S.," the final voiceover said, adding, "This is real." And of course, that's why the sketch is so funny. It's because it is real. This is all really happening in the government right now. So if there's anything good that comes out of the disaster happening in government right now, it's the fantastic comedy. It may not seem like a lot right now, but in times like these, I guess we've just got to enjoy what we can while we can.
Check out Romper's new video series, Romper's Doula Diaries:
Watch full episodes of Romper's Doula Diaries on Facebook Watch.