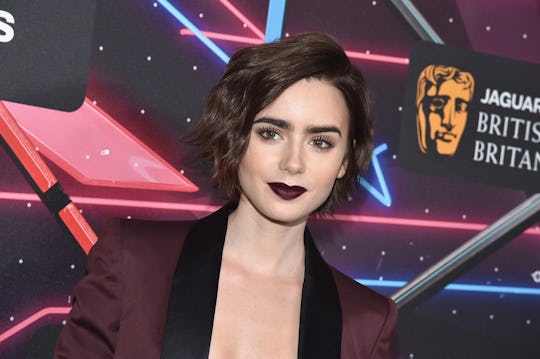 Mike Windle/Getty Images Entertainment/Getty Images
The 'To The Bone' Trailer Is Dark, But Important
Marti Noxon may be best known for her television work, specifically Lifetime's UnREAL and the controversial, dark sixth season of Buffy the Vampire Slayer, but now she's making her feature film directorial debut with To The Bone. Also written by Noxon, To The Bone tells a story that's deeply personal for Noxon and is sure to resonate with more than a few viewers, as well. After premiering to positive reviews at Sundance, the film will debut on Netflix on July 14. Noxon's past work seems to show an interest in unconventional and often uncomfortable female-centric storytelling, and a look at the recently released trailer for To The Bone makes it clear that this is a film that deals with difficult topics too.
The film stars Lily Collins as a 20-year-old-girl named Ellen who has been struggling with anorexia for much of her life. She enters her fifth treatment facility at the urging of her family in an attempt to finally get the help that she needs, but the journey is far from easy. The trailer is full of painful details that make Ellen's battle feel all the more real, and that's in part because the film came from a very personal place for Noxon.
Noxon has spoken out about having struggled with eating disorders herself since she was very young. For her, and for Ellen, it was partially a way to get control when her life felt like it was spinning out, but it was also addictive. "I literally couldn't stop," Noxon said in an interview with The Hollywood Reporter. "And you get rewarded. People would walk up to me, until I got terrifying-looking, and be like, 'Tell me your secret.' And if I had said, 'I swallow a brick every morning,' they would've been like, 'Which brick? Where can I get it?' Which just shows you how f*cked up our priorities are."
To The Bone allowed Noxon to finally explore her story in the way she wanted to, with the hope that it would also ring true for people who had suffered the same issues. In a photo diary for Entertainment Weekly that documented her time at Sundance, Noxon explained her goals for the film. "What I'm trying to do is bring understanding and compassion to an issue that touches way more people that we realize," she wrote. "And I want more people to talk about how much food and body image affect men and women and keep us from loving the moment we're in."
The film felt very personal for its lead actress, too, as Collins had also dealt with an eating disorder when she was a teenager. The film gave her a chance to open up about her struggles and also collaborate with Noxon in a way that made the film all the more honest. "I've wanted to to get all this off my chest for a long time," Collins told IndieWire. "This was my way to be able to tell this story for the greater good, for a greater purpose, to open up communication."
Though difficult topics can make for tough films to watch, telling stories like this on film with honesty and compassion are important. They give people a place to share their stories. They bring greater understanding. And they mean something to people who have felt the same way.