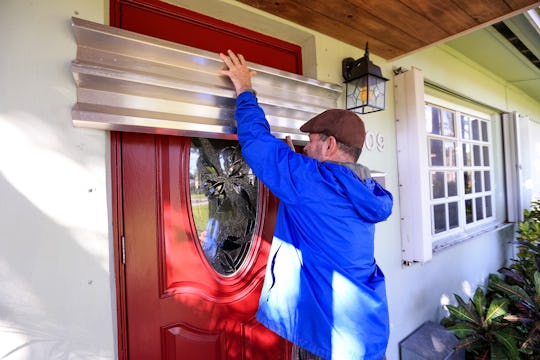 Rob Foldy/Getty Images News/Getty Images
The Top Risks To Toddlers In A Hurricane Aren't Just Physical
Hurricane Matthew is expected to batter the Southeast in the coming days, first hitting Florida on Thursday before making its way to Georgia and South Carolina. Florida Gov. Rick Scott is urging residents to evacuate before the storm makes landfall, according to NBC, and winds of up to 150 miles per hour are expected. Parents of small children should take extra precautions, because toddlers' risks during a hurricane go beyond what adults have to contend with. Parents should also be aware of the possibility of anxiety and emotional trauma before, during, and after natural disasters.
For the average East Coast resident, hurricanes are just an annual annoyance. Board up the windows, stock up on water and gas, and get ready to play cards by candlelight for a day or two (if you're in a safe area. If you have been ordered to evacuate, then get the heck out). But even a minor storm can stress out children, who thrive on routine. Little ones might not understand why their preschool is closed on a weekday, or why they can't watch Paw Patrol after lunch like they usually do. While it's important to teach them basic hurricane safety like staying away from windows and not touching downed power lines, it's equally important that kids be emotionally prepared for storms, as well as the aftermath.
Save the Children recommends talking to kids about hurricanes before one arrives, explaining how and why they happen, and practicing evacuation drills so that children aren't caught off guard when the storm hits. Check out the local library for children's books on weather, or show them a kid-friendly video while the power and internet are still working. Kids will feel more in control if they're involved in storm preparation; ask them to bring all their outdoor toys inside, or give them a checklist and a crayon and have them "supervise" a trip to the grocery store for batteries and non-perishable food.
While hunkering down through the winds and rain should be taken seriously, kids will be less frightened if it seems like an adventure. Huddling under the dining room table becomes "camping" if you throw a sheet over it and bring in a flashlight and a cooler full of snacks. In the aftermath of a serious storm that caused property damage or even injuries or death, pay close attention to children's mental health. The National Child Traumatic Stress Network cautions parents to be on the lookout for separation anxiety, regression, withdrawal, or changes in sleep and appetite. Keep communication open, allow children to ask as many questions as they need, and remind them that they're safe. The simplest, but most important thing they need to get through a hurricane is love and care.