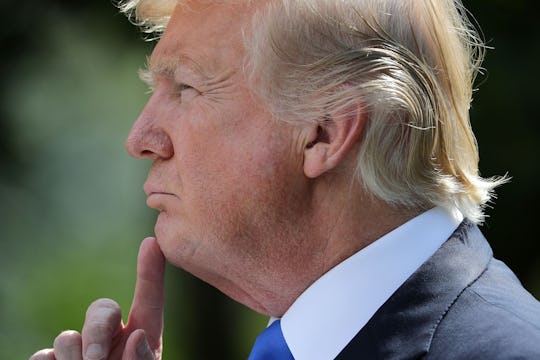 Chip Somodevilla/Getty Images News/Getty Images
The Trans Community's Responses To Trump's Military Ban Are Heartbreaking & Important
On Wednesday morning, President Trump posted a series of tweets announcing that his administration would be banning transgender people from enlisting in the military. Trump's tweets prompted shock, outrage, and confusion throughout the LGBTQ community, with many taking to Twitter to express their anger at the administration. While people are still trying to parse out the details of Trump's announcement, these heartbreaking responses from members of the trans community reflect its devastating effects.
At 7:55 a.m., President Trump tweeted: "After consultation with my Generals and military experts, please be advised that the United States Government will not accept or allow...transgender individuals to serve in any capacity in the U.S. Military," adding that the military "cannot be burdened with the tremendous medical costs and disruption that transgender in the military would entail."
While it's unclear what exactly prompted President Trump's announcement, or how the new policy would affect the estimated 11,000 transgender troops currently serving in the military, it's an about-face from an initiative established by President Barack Obama's administration, which ended the ban on transgender people openly serving in the military in 2016.
The symbolic effect of the ban, particularly in the context of President Trump's other rollbacks on LGBT rights, sent shockwaves throughout the transgender community, and many took to Twitter to respond to the announcement.
Many people reacted with rage and disgust:
Others had more mixed feelings, due in large part to their opposition to the military industrial complex and the U.S. army's record of human rights violations.
Author, television host, and speaker Janet Mock wrote that the tweets were "trolling at its finest from a man who's never served." "Shameful that trans folk are being used as scapegoats in another non-issue... to distract from your shortcomings," she added.
Writer and comedian Rye Silverman tweeted out the number of the Trans Lifeline, a suicide prevention hotline for trans people, to aid those who might be struggling in light of Trump's tweets.
Chelsea Manning also spoke out about the hypocrisy of the ban, pointing out that the military could certainly absorb the cost of transgender health care if it was able to fund defense initiatives like the F-35 fighter jet program.
She then concluded with a message of support for the trans community: "Remember, it's love and inspiration that gives us our courage."
Others in the community echoed this simple messages of love and support.