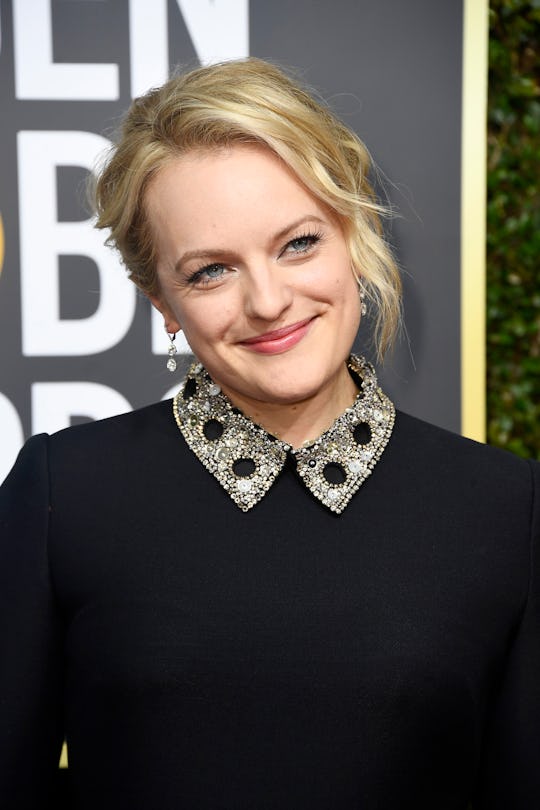 Frazer Harrison/Getty Images Entertainment/Getty Images
Elisabeth Moss' Golden Globes Speech Will Make You Shout "Praise Be"
Aside from Donald Trump and that "blinking guy" meme, there's no better symbol for 2017 than Hulu's The Handmaid's Tale. Which is precisely why it was so perfect that Elisabeth Moss won the 2018 Golden Globe for Best Lead Actress in a TV Drama during Sunday night's awards show. Given the political climate and everything happening around the sexual assault allegations in Hollywood, the awards show was all about women, and the transcript of Elisabeth Moss' Golden Globes acceptance speech proves it.
Moss and the show have been sweeping awards, taking home four Emmys and two TCA Awards last year. For the 2018 Golden Globes, her competition was tough. She was up against Caitriona Balfe (Outlander), Claire Foy (The Crown), Katherine Langford (13 Reasons Why), and Maggie Gyllenhaal (The Deuce), all of whom delivered great performances, but it was also sort of a given that The Handmaid's Tale would be the standout this year. Not just because the adaptation of Margaret Atwood's dystopian novel is so timely right now, but also because everything about it was done so well.
Moss' win was totally well-deserved. As one of the supporting actresses and donors of Time's Up, the initiative created by some of Hollywood's biggest stars to combat sexual harassment and sexual assault for all women, Moss used her time on stage to address the issue of the night.
Here's a full transcript of Moss' speech just in case you need a little feminist pick-me-up this week:
Thank you to the HFPA [Hollywood Foreign Press Association], thank you so much. Hulu and MGM, thank you. Thank you to my incredible crew and my incredible cast, I couldn't do it without you... Especially to Bruce [Miller] and Warren [Littlefield], you two are the kind of men that we need more of in this business and I thank you. To my team you know who you are and I love you. My mom and my brother , you are the hero and the heroine of my life...I brought this because I can't be trusted [unfolds note]. This is from Margaret Atwood, 'We were the people who were not in the papers, we lived in the blank white spaces at the edge of print. It gave us more freedom we lived in the gaps between the stories.' Margaret Atwood, this is for you, and all the women who came before you and after you who were brave enough to speak out against intolerance and injustice and fight for equality and freedom in this world. We no longer live in the blank white spaces at the edge of print, we no longer live in the gaps between the stories, We are the story in print, and we are writing the story ourselves.
Since starring in the show, Moss has become, she told New York's Vulture, more and more of an advocate for women's equality, although she's had some slip ups in the press. Last year, she made some comments about the show not being a feminist one, which was totally misinterpreted in the media. She later told The New York Times:
That was my mistake in the sense that I should have been much clearer. What I should have said is that it is not only a feminist story, but it is also a human story. Obviously it is first and foremost a feminist story.
Luckily, her message during the Golden Globes speech this year couldn't have been more clear. Hopefully, this is just the beginning of another great awards season for The Handmaid's Tale and Moss, because the world could certainly use a little more of her.
Check out Romper's new video series, Romper's Doula Diaries:
Watch full episodes of Romper's Doula Diaries on Facebook Watch.