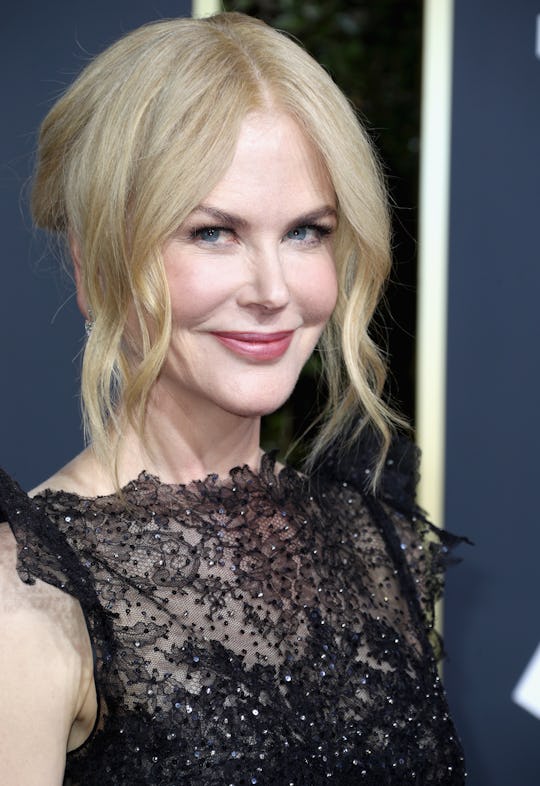 Frederick M. Brown/Getty Images Entertainment/Getty Images
The Transcript Of Nicole Kidman's Golden Globes Speech Will Make You Cry
The 2018 Golden Globes gave its first award of the night to Nicole Kidman for her role in HBO's popular miniseries, Big Little Lies. And if you think that the transcript of Nicole Kidman's Golden Globes speech won't make you cry, well, you couldn't be more wrong. In fact, her message was downright heartwarming.
In case you haven't had the pleasure of seeing Big Little Lies yet, Kidman's character, Celeste Wright, was the picture perfect mom of her twin sons, with the perfect husband, Perry. However, as the show went on it became clear that — spoiler alert! — Celeste's life was anything but perfect. Behind the closed doors of Celeste's home she was actually suffering through domestic violence at the hands of her husband.
Last year Kidman won an Emmy for the role, so this year people weren't all that surprised to see her walk away with the Golden Globe, especially because it was so well deserved. The victory was Kidman's fourth Golden Globe win, but her first in the Best Actress in a Limited Series category. Also nominated in the category was Kidman's Big Little Lies costar Reese Witherspoon, who Kidman thanked in her awards speech, along with the rest of her incredible cast and the crew behind the show.
Below is the full transcript of Kidman's speech at the 2018 Golden Globes:
First cab off the rank. Yikes! That means my daughters are still awake so Sunny, Faith, I love you and I'm bringing this home to you babies.
Thank you to the Hollywood Foreign Press for supporting us. Thank you to HBO and Richard Plepler for supporting and committing to us. And when I say us I'm talking about Reese Witherspoon and myself. We did this because of our friendship, our creative union, and our support of each other and I love you.
Also, I want to say Laura Dern, Shailene Woodley, and Zoë Kravitz. We sat at a table, we pledged allegiance and commitment to each other and this is ours to share. Wow, the power of women.
Also, I speak on behalf of the five of us because we would not be in existence with this show and it wouldn't be as good as it's been without the mastery of Jean-Marc Vallée and David E. Kelley. And also Liane Moriarty. And I have to say Bruna Papandrea and Per Saari your tenacity is amazing. Thank you.
There's been people in my life for decades who if I have the chance to thank them, I'm thanking them ... Susan Batson, Guyere, Chris Andrews, Wendy Day, Miranda, Liz, all of you, I love you. And my mama. My mama was an advocate for the women's movement when I was growing up and because of her I'm standing here. My achievements are her achievements. Antonia Kidman, my sister, and I say thank you Janelle Kidman for what you fought for so hard.
And this character that I played represents something that is the center of our conversation right now: abuse. I do believe and I hope we can elicit change with the stories we tell and the way we tell them. Let's keep the conversation alive, let's do it.
And Keith Urban, when my cheek is against yours everything melts away and that is love. I love you so much. God bless you. Thank you.
Kidman's speech was incredibly heartfelt and clearly moved people in the audience to tears, as well as viewers at home. If you haven't had the chance to see her incredible work in Big Little Lies, now's the perfect time to do so, especially since the show has already been renewed for Season 2. Congratulations to all involved!
Check out Romper's new video series, Romper's Doula Diaries:
Watch full episodes of Romper's Doula Diaries on Facebook Watch.