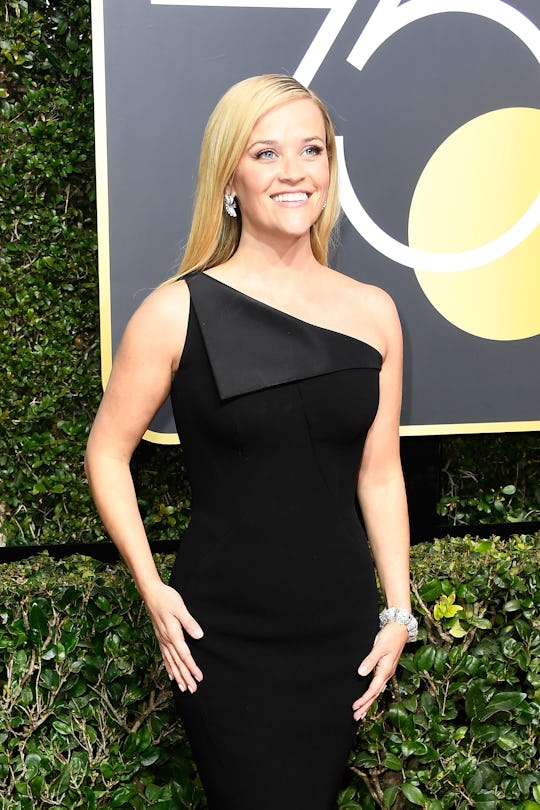 Frazer Harrison/Getty Images Entertainment/Getty Images
Reese Witherspoon's Golden Globes Acceptance Speech Was *So* Good
Reese Witherspoon hasn't won a Golden Globe since 2006, when she took home the award for Best Actress in a Musical or Comedy Motion Picture for her work in the Johnny Cash biopic Walk the Line. But the miniseries on which she served as a producer this year, Big Little Lies, won in its category and the transcript of Reese Witherspoon's Golden Globes acceptance speech is powerful. She included a special shoutout to the people who spoke up about sexual harassment in the industry.
It was a great followup to her Emmys speech, which she accepted as a co-producer when Big Little Lies won for Best Miniseries. In it, she, along with co-star Nicole Kidman, begged Hollywood to see the value in giving women more vehicles to drive their own narratives. "It's been an incredible year for women on television," Witherspoon said at the time. "Can I just say, bring women to the front of their own stories, and make them the hero of their own stories? And thank you for that opportunity [for] audiences to wrap their arms around us."
She got a chance at the mic as she accepted the Golden Globe for Best Miniseries, too, and Witherspoon continued her mission of celebrating women and lifting up their voices.
Said Witherspoon as she accepted the award on Big Little Lies' behalf:
"I just want to say thank you so much. This show is so much about the life we present to the world that could be very different from the life we live behind closed doors. So I want to thank everyone who broke their silence this year and spoke up about abuse and harassment. You are so brave. And hopefully shows like this — more will be made. So people out there who are feeling silenced by harassment, discrimination, abuse: time is up. We see you, we hear you, and we will tell your stories. Thank you."
Witherspoon was also nominated for her acting on the show, playing the perky, high-strung, and capable Madeline Martha Mackenzie. But she lost out on the Golden Globe for Best Actress in a Miniseries to her co-star and co-producer Nicole Kidman. This is actually exactly how the Emmys shook out, too, with Kidman taking home the award win and Reese getting an opportunity to speak during the Best Miniseries acceptance.
Kidman also praised Witherspoon in her acceptance speech for Best Actress, and it's clear that the project was a labor of love that grew out of their friendship. Rounding out Big Little Lies' Golden Globes sweep were the awards for Best Supporting Actor in a TV Series, which went to Alexander Skarsgard (his first Golden Globe ever!), and Best Supporting Actress in a TV Series, which went to Laura Dern.
Witherspoon walked the red carpet with a pregnant Eva Longoria representing the Time's Up movement, which got a shoutout in her acceptance speech. Time's Up was kicked off by Hollywood A-listers and its actionable causes include a $16 million legal defense fund for people who have experienced workplace harassment, as well as a plan for equal pay in Hollywood in the next two years called "50/50 by 2020." Other celebs, including Witherspoon's Big Little Lies co-star Dern, made a statement on the red carpet by attending the awards ceremony with prominent activists who have been working for women's labor rights across various industries, illustrating how this problem is much bigger than Hollywood. Witherspoon's speech honored all abuse survivors who finally feel safe enough to come forward. Hopefully the efforts behind her support of these survivors will encourage more people to come forward.
Check out Romper's new video series, Romper's Doula Diaries:
Watch full episodes of Romper's Doula Diaries on Facebook Watch