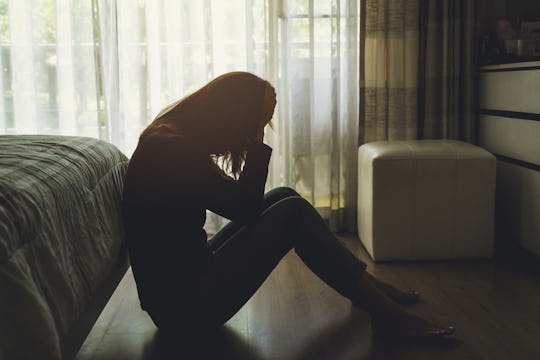 Kittiphan/Fotolia
The Trump Administration Is Forcing An Undocumented Teen To Stay Pregnant
Despite doing everything she was supposed to do to obtain an elective abortion while in federal custody, the Tump administration is still reportedly blocking an undocumented teen from getting an abortion in Texas, despite a federal judge's order to release her for the procedure. The 17-year-old woman, who is being referred to only as Jane Doe in court documents, fled Central America without her parents and is reportedly being held in a federally funded shelter in Texas.
The teen alleges that the detention center in Brownsville, Texas is trying to "coerce" her to carry her pregnancy to term, according to papers she filed in federal court, as VICE reported. On Wednesday, U.S. Court of Appeals for the D.C. Circuit Judge Tanya Chutkan ruled that the federal government was to transport the teen "without delay" to get an elective abortion. In compliance with Texas state law, the minor was to be taken to receive mandated counseling on Thursday morning and then get the abortion on Friday or Saturday, according to The Washington Post.
However, on Wednesday night the Justice Department appealed Chutkan's decision, further delaying the process for Doe, who is reportedly about 15 weeks pregnant, according to VICE. Under Texas law, after 20 weeks she will be unable to get an abortion at all.
According to court documents, the teen has been in custody of the Office of Refugee Resettlement since September and has been seeking an abortion since then. The state initially granted her request for an abortion without telling her parents, according to The New York Times. But, according to court papers filed on her behalf by the American Civil Liberties Union, the ORR forced her to go to a religious counseling center and called her parents in Central America to inform them of her pregnancy.
During Wednesday's hearing, the ORR and the U.S. Department of Human Health and Services alleged that the minor had no constitutional right to an elective abortion, the Times reported. Chutkan asked Justice Department lawyer Scott Stewart whether he believed that Roe v. Wade was still the "law of the land." Stewart refused to give her that concession, according to The Washington Post. He added that undocumented minors have "minimal protections" and did not have the right to an elective abortion while in federal custody unless it was a medical emergency.
In response, according to BuzzFeed News, Chutkan laughed and said, "This is remarkable." She wrote in her ruling that the teen would "suffer irreparable injury" if the federal government continued to block her abortion. She added that she was "astounded" by the government's position that the teen should return to a country she had fled to get an abortion or carry her unwanted pregnancy to term while in custody, HuffPost reported.
In court documents, the Justice Department claimed that the government has "strong and constitutionally legitimate interests in promoting childbirth, in refusing to facilitate abortion, and in not providing incentives for pregnant minors to illegally cross the border to obtain elective abortions while in federal custody," according to New York Magazine.
According to Politico, HHS's Administration for Children and Families, which oversees the care of undocumented minors in federal shelters, said in a statement that Chutkan's ruling "sets a dangerous precedent by opening our borders to any illegal children seeking taxpayer-supported, elective abortions" and that it "overrides the policies and procedures" of the department.
The ORR issued a new policy in March that prohibits all federally funded shelters housing unaccompanied minors from allowing "any action that facilitates" abortion access, including counseling, without "direction and approval" from the director of the ORR. The director right now is E. Scott Lloyd, a conservative anti-abortion lawyer, who once visited a young, undocumented pregnant woman in custody to talk her out of an abortion, according the the ACLU.
The ORR told BuzzFeed News in a statement:
Federal law is very clear on giving the director of the Office of Refugee Resettlement the legal responsibility to care for the health and well-being of a minor in the unaccompanied alien children program and, in this case, her unborn baby. We cannot cede our responsibility to care for minors and their babies by releasing them to ideological advocacy groups.
Brigitte Amiri, a lawyer for the ACLU who represented Doe on Wednesday, said in a statement that she was worried "about the lengths that the federal government is willing to go to prevent Jane Doe from getting her abortion," according to Politico.
Chutkan's order was for Doe to be taken to receive mandated counseling by Oct. 19 and the abortion no later than Oct. 21, but with the Justice Department's appeal, they'll reportedly be back in court on Friday morning to hear arguments.