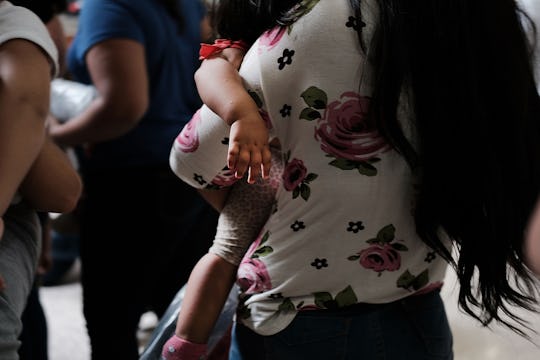 Spencer Platt/Getty Images News/Getty Images
The Trump Administration Wants To Detain Immigrant Children & Their Families Indefinitely
Many Americans expressed outrage after Attorney General Jeff Sessions' zero-tolerance immigration policy led to mass family separations at the U.S.-Mexico border. And concern about the United States' immigration policies intensified again on Thursday when the Trump administration announced a new measure that would allow immigrant children and their families to be detained indefinitely, according to NBC News.
Supporters of the proposal, like U.S. Department of Homeland Security Secretary Kirstjen Nielsen, believe the proposal will close supposed immigration "loopholes", while critics of the move argue it would give the government free reign to set its own standards of care for immigrant children. The prospect is a frightening one when you consider the Trump administration has yet to reunite over 700 immigrant parents with their children as of last month, according to CNN.
If you're wondering how the Trump administration plans to detain immigrant families indefinitely, it's important to first understand what the 1997 Flores Settlement is and how it plays a key role in Thursday's announcement.
The Flores Settlement, according to Human Rights First, states that these three important standards regarding the detainment of immigrant children must be met:
The government is required to release children from immigration detention without unnecessary delay to, in order of preference, parents, other adult relatives, or licensed programs willing to accept custody.
If a suitable placement is not immediately available, the government is obligated to place children in the "least restrictive" setting appropriate to their age and any special needs.
The government must implement standards relating to the care and treatment of children in immigration detention.
The pivotal settlement initially came to be after multiple organizations filed lawsuits during the 1980s against former government agency Immigration and Naturalization Services for the alleged mistreatment of immigrant children, according to NPR. In addition to the settlement provisions outlined above, the agreement stipulated unaccompanied immigrant children couldn't be held in detention centers for more than 20 days, according to Vox.
The settlement was later amended in 2015 by U.S. District Judge Dolly Gee to include "accompanied" children, a change that led to the release of entire families within the 20-day time frame, according to CNN. As Vox writers Dara Lind and Dylan Scott pointed out, this provision is "one example of what the Trump administration calls 'catch and release.'"
Nielsen, along with many other conservatives, believe the Flores agreement creates "legal loopholes" as opposed to creating safe environments for immigrant children and asylum seekers. Nielsen said in a statement about the Trump administration's detention proposal, according to The New York Times:
Today, legal loopholes significantly hinder the department's ability to appropriately detain and promptly remove family units that have no legal basis to remain in the country. This rule addresses one of the primary pull factors for illegal immigration and allows the federal government to enforce immigration laws as passed by Congress.
Eager to close these so-called "legal loopholes," the Trump administration filed a court order on Thursday to "terminate" the Flores Settlement Agreement so it can detain entire immigrant families for "the duration of the legal proceedings that determine if they can stay," according to TIME. DHS also wants to send any unaccompanied minor to a facility for indefinite detention, as opposed to releasing the child to a relative or other guardian, as The Hill reported.
Detaining kids indefinitely is detrimental to their mental and physical health. Experts warn detainment can impact a child's "attachment or stress regulation" and "physical growth parameters such as height, weight and head circumference, and brain development," according to The New York Times. What's more, Luis Zayas, the dean of the school of social work at the University of Texas at Austin, explained to HuffPost how prolonged detention can also affect a child's brain development. "We will see problems in the future where kids can't perform well in school," Zayas shared with HuffPost.
Additionally, the proposal — set to be published in its entirety by the departments of Homeland Security and Health and Human Services on Friday — would likely allow the transfer of immigrant children to facilities that aren't state regulated, meaning countless kids' well-being are at risk if the proposed changes to the Flores Settlement are finalized, especially considering the conditions at these facilitates are concerning as it is.
In the meantime, immigration advocates and concerned citizens can speak out against the proposal within a 60-day window set to end on Nov. 6. If the amendment is challenged in court, Federal Judge Dolly Gee — who oversees the Flores Settlement — will hear the case, according to Mother Jones. It will then be up to Gee to decide whether the Trump administration's proposal is valid.
If you're concerned about the Trump administration's proposed changes to the Flores Settlement Agreement, let your voice be heard. As outlined by critics, the proposal would be harmful to immigrant children and their families in countless ways if it goes into effect, and immigration advocates need all the help they can get to stop this from happening.