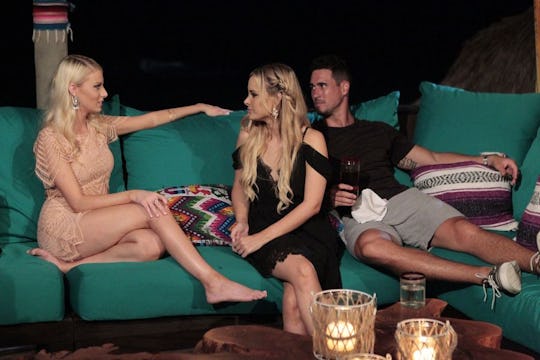 ABC/Rick Rowell
The Twins Warn Amanda About Josh On 'Bachelor In Paradise', & It Clearly Confuses Her More
On Bachelor in Paradise, Josh is clearly in two relationships at this point: one with Amanda, one with pizza. Both seemed to be going strong, but the former causes a bit more drama. First off, Josh "stole" Amanda from Nick towards the beginning of the season, and then Evan tried to "steal" her from Josh by revealing details of his past. Turns out, other contestants are frustrated with Josh as well. The twins warn Amanda about Josh on Bachelor in Paradise, and it only seems to confuse her more.
Emily and Haley said they noticed off behavior from Josh throughout their time, but on Monday night one thing sparked action: how he became upset that Amanda went to bed without telling him – which meant they couldn't hook up, boo hoo. In an odd moment of clarity, they knew this was not acceptable. They then consulted Nick, who obviously isn't a fan of Josh. He brings up bachelorette (and Josh's ex) Andi Dorfman's book, in which she wrote about how he was abusive.
The twins did not have a chance to talk to Amanda before the rose ceremony, in which she gave a rose to (of course) Josh. Emily and Haley make a dramatic exit, as they did not find love throughout their time in Paradise. Before they left, however, they took Amanda aside.
They tell her that "Josh's intention aren't pure" – and Amanda is immediately confused. They figure that Josh came to Paradise to improve his image, which Andi's book tarnished. Josh chose the girl with the "best" image: Amanda. After dropping this bomb, the twins finally left.
Josh comes to talk to Amanda, who is confused. He is also confused. Everyone is confused – including us. Then Amanda reveals that they said his intentions weren't pure and, surprise, his temper flared up. No mater what Josh's intentions, it was clear that Emily and Haley cared about Amanda. They were previously concerned, and Josh getting upset that Amanda fell asleep on him was the last straw. The twins proved they were more than bubbly talking heads, and they spent their last moments in Paradise helping their friend – or trying to, anyway.