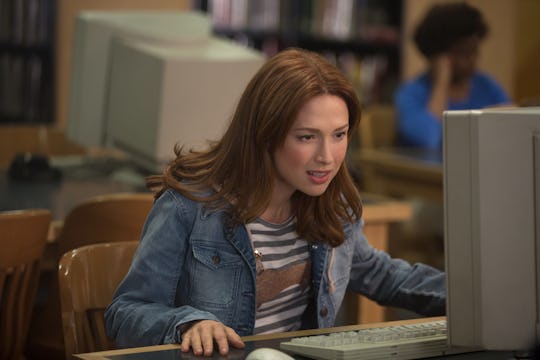 Eric Liebowitz/Netflix
The 'Unbreakable Kimmy Schmidt' Season 2 Trailer Is Here & Love Is In The Air For Everyone's New Favorite Elf
Believe it or not, a year has almost passed since the Unbreakable Kimmy Schmidt premiere, when the world fell in love with a clueless mole woman just trying to make her way around New York City. Now, the Unbreakable Kimmy Schmidt Season 2 trailer is here. So mark your calendars for April 15, and get your Pinot Noir ready, because from the looks of the trailer, Kimmy is not wasting any time doing Kimmy Schmidt things.
Unbreakable Kimmy Schmidt Season 1 became an instant fan-favorite for Netflix users. The comedy, the timliness, and the robust set of characters made it a must-watch (and must-binge) series for the streaming service. Obviously the show was picked up by Netflix for a second season, and now the wait is (almost) over to dive into the second installation of the show.
Things are a little different in the second season trailer for protagonist Kimmy Schmidt. The first season, which showed Kimmy as a complete newbie in the millenium world (remember, she was in a bunker for 15 years), was all about acclimation. Acclimating to people, to working environments, and to New York (which is a show in itself). Now, the second season seems to be prepping us for less of an acclimation and more of an evolution — the evolution of Kimmy Schmidt.
In the trailer, it's clear that Kimmy is (slowly) getting this whole being-an-adult thing down. She applies for a new job at a Christmas store, continues her education, and possibly meets a new man.
In the finale of Season 1, Kimmy's love interest, Dong, married Sonya (a woman in their GED class) to avoid deportation. Now, it seems like Kimmy has moved on from that stage in her life and possibly found a new love interest in the form of a restaurant goer. Will this actually turn into something? We'll have to wait until the season premieres, but I think Kimmy is slowly working her way towards a real relationship.
Unbreakable Kimmy Schmidt premieres on April 15 on Netflix.