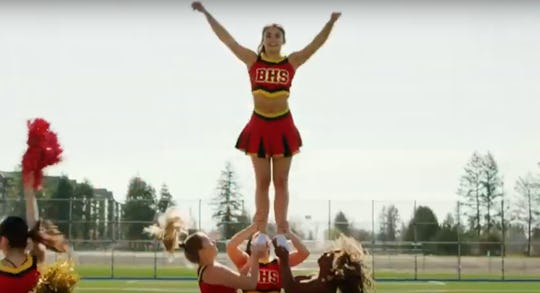 Lifetime/YouTube
I'm Screaming About The 'Undercover Cheerleader' Cast
Fall weather apparently makes Lifetime want to cheer. Undercover Cheerleader is the latest in a new series of cheer-inspired films that the network calls its Cheer, Rally, Kill, lineup of movies. The cast of Undercover Cheerleader is going to make you scream — not from fear, from delight. You've seen them on big and small screens before. Familiar faces always make TV movies more fun for me to watch, so I'm excited to tell you about them.
But first let me tell you about the plot of the film, because that might make you scream for an entirely different, more terrifying reason. In Undercover Cheerleader, Autumn is a writer on the school newspaper, tasked with writing an exposé on "cruel culture of the squad," according to Lifetime's description of the film. She definitely didn't think this assignment through, because as soon as she goes undercover, she learns that the culture is not so much cruel as it is potentially deadly. I love a juicy journalism assignment as much as any writer, but I definitely wouldn't begin one if I knew it would threaten my life or anyone else's. I feel for Autumn, and my fingers are crossed that she makes it out of the ordeal alive. If she gets words on a page and to print, that's just bonus points.
Let me tell you everything I know about the cast playing the high school students fighting for their lives.
This article was originally published on