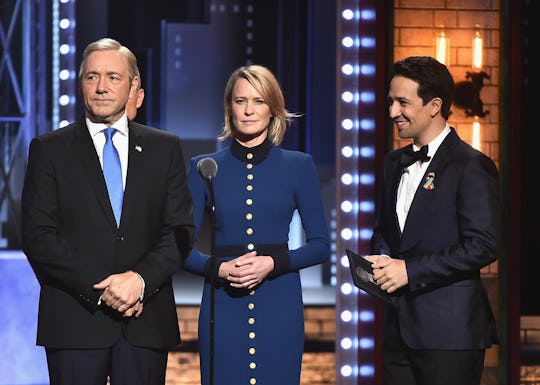 Theo Wargo/Getty Images Entertainment/Getty Images
The Underwoods Made A Special Cameo At The Tony Awards
As host of the 2017 Tony Awards, Kevin Spacey decided to do some of his famous impressions as part of a running schtick throughout the evening. But he saved his best impression for last. The Underwoods appeared at the Tony Awards in a cameo fans all hoped was coming. And as usual, these characters did not disappoint.
Spacey does great accents, and he does great impressions, which he decided to show off to the best of his ability as host of the Tony Awards. We got a song and dance number, we got spot-on (but oddly dated) impressions of Johnny Carson and former President Bill Clinton, and finally, in the last few moments of the show, we got the one impression we'd all been hoping he'd whip out (not least of all because it's the only one that's culturally relevant at the moment). Spacey marched on stage dressed as the fictional Frank Underwood, with Robin Wright as his wife Claire Underwood by his side, looking as amazing, powerful, and ice cold as ever in a killer blue dress. Lin-Manuel Miranda, who was presenting the award for Best Musical, looked a little taken aback, but viewers here at home absolutely loved it.
As the morally repugnant Frank Underwood, Spacey handed Miranda the envelope and instructed him to read the winner. In another nod to his work on House of Cards in which he often breaks the fourth wall, Spacey looked directly into a camera and joked that he couldn't wait to get out of there before Bette Midler starts thanking anyone else. That was a pretty funny nod to the fact that Midler had just commanded the band to let her finish her speech before they tried to play her off the stage following her win. (It was an amazing move that you just know the Underwoods would totally respect.)
While Twitter may not have loved Spacey's many other impressions overall throughout the evening, nobody can say no to Frank Underwood. And all-in-all, Spacey was a pretty awesome host. Maybe this will become a regular gig for him from here on out. I certainly won't be complaining if that does, in fact, turn out to be the case — especially if that means more Underwood cameos.