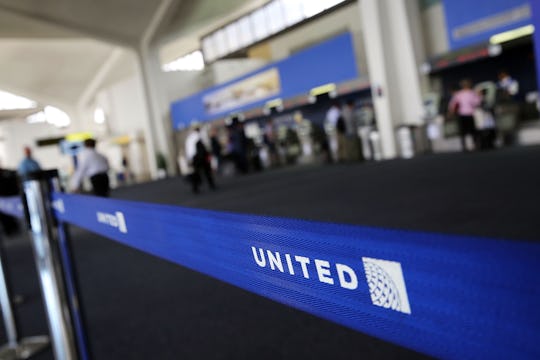 Spencer Platt/Getty Images News/Getty Images
United Passenger's Past Doesn't Justify His Treatment
On Sunday, a doctor was forcibly dragged off of a United Airlines flight so that a United Airlines employee could board the plane and make a layover connection instead, according to Fortune. Video of the incident quickly spread across social media, with people across the world becoming outraged by the treatment of the passenger when he refused to "voluntarily" leave the aircraft so United staff could have the seat he paid for instead. Now, some outlets are reporting that the doctor, David Dao, has a "sordid past." But no matter what, the United passenger's past is and will never will be justification for violence against him, no matter how representatives from the company or other media outlets may try to spin things.
According to Fortune, United CEO Oscar Munoz called the passenger "disruptive and belligerent" in the contents of an email to employees on Monday night, following widespread backlash following the video of United security officers dragging Dao out of his seat and down the aisle of the aircraft going viral.
Munoz also released a statement following the incident, Business Insider reported:
This is an upsetting event to all of us here at United. I apologize for having to re-accommodate these customers. Our team is moving with a sense of urgency to work with the authorities and conduct our own detailed review of what happened. We are also reaching out to this passenger to talk directly to him and further address and resolve this situation.
Munoz additionally defended the actions of the security employees involved in the violent incident, by writing, "Our employees followed established procedures for dealing with situations like this," in the aforementioned email to employees, according to The Guardian.
Additionally, Maddie King, a spokesperson for United, confirmed to Romper that the airline requested that four passengers leave the plane, and Dao declined. When deciding which passengers to remove from the flight, King said officials used King Department of Transportation procedures, which dictate that minors and those flying with children are allowed to stay over others. In response to allegations of racism (Dao is Chinese), King said, "We don't discriminate and we don't tolerate discrimination, so that would not have been a consideration."
And on Tuesday, Munoz apologized for the removal of Dao from the flight, according to CNN Money, calling the situation, "truly horrific." In the statement, he also acknowledged:
I want you to know that we take full responsibility and we will work to make it right...I promise you we will do better.
Some sources are now reporting that — according to documents filed with the Kentucky Board of Medical Licensure — a Dr. Dao was arrested in 2003 on drug-related offenses after an undercover investigation that revealed that a former patient/coworker quit working with the doctor as a result of "inappropriate" remarks made by Dao. It was reported that the doctor in question then pursued the other man and arranged to give him prescription drugs in exchange for sexual acts.
It was also reported that in 2004, that doctor was convicted on several felony counts of obtaining drugs by fraud or deceit. He was placed on five years of supervised probation, and was able to continue practicing medicine in 2015 under certain conditions after completing his probation.
But despite whatever Dao may or may not have done in the past, that's no justification for him being treated inhumanely by United or Chicago aviation employees and by the company as a whole in the present.
And it looks like many of those reacting to the allegations on social media would agree. Author Ana Mardoll tweeted, "When you say David Dao, or ANY other victim, 'had a history' then you are suggesting that history justifies police violence. It doesn't."
And Twitter user @ClaireEubank, whose profile stated that she works for another airline, Emirates, used the trending hashtag #NewUnitedAirlinesMottos to shame United, tweeting, "The history & background of David Dao isn't relevant & doesn't give anyone the right to assault him! #Disgraceful"
WLKY anchor and reporter Christina Mora reported in a tweet, "Spoke to David Dao. Confirms he is the man pulled from the United flight. Says he's in hospital in Chicago. Says 'everything' is injured."
The fact that Dao was harmed enough in the incident that he ended up in a hospital is outrageous. And the idea that rumors about his possible past are spreading in an attempt to make the violent treatment he faced seem justified just adds insult to injury.
The bottom line is, no passenger deserves the treatment Dao received because they were unwilling to give up a seat that is rightfully theirs. United's move, many argue, was not justified even if Dao has a "sordid past" (one that the company and it's representatives would not have even known about when the incident occurred, keep in mind).
If the violence that was inflicted upon him was part of "standard procedure," it's definitely time for companies to take a good, long look at their standard procedures, and ensure that their policies don't involve inexcusable violence against customers in the future.