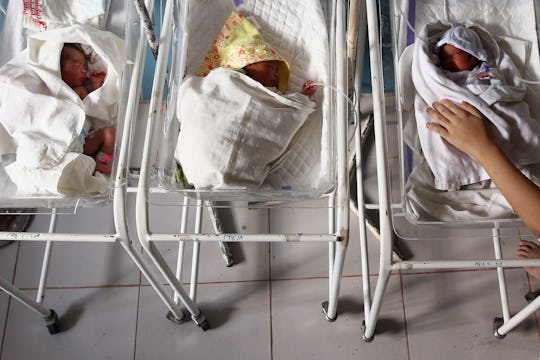 Dan Kitwood/Getty Images News/Getty Images
What We Can Learn From Germany's Confidential Birth Laws
For women in crisis, there aren't many options they can take advantage of if they get pregnant, especially when it comes to remaining anonymous. That's why Germany's confidential birth law is so interesting. Every since the Middle Ages, churches and hospitals have had a "foundling wheel" or a place where mothers could leave their "unwanted" children. These days, they call them "baby hatches," or boxes on the outside of a hospital in which a woman can leave an infant, and then an alarm goes off to alert medical staff to care for it.
But German officials believed that the baby hatches were too anonymous since they deprive a child of ever knowing who their mother was or where they came from, which is true. So the country instituted a confidential birth law, under which a woman can choose to stay anonymous by contacting a free hotline. The hotline puts her in contact with a counselor and begins a treatment program, in which she gets emotional support and medical care.
The counselor knows her real name and has a copy of her I.D. card and all of that, but no one else throughout the prenatal care process ever learns the woman's true identity. When she gives birth, the child is put up for adoption. There's one catch — when the child turns 16 years old, they're given contact information for the mother, in case they want to meet.
Since the law was put in place in 2014, 335 women have taken advantage of the confidential birth law in Germany — more than 100 of them this year alone.
The German minister for Family Affairs and Women, Katarina Barley, said after an evaluation of the law and its outcomes was released on Wednesday, "This is a good solution for mother and child. Both of them receive medical care during birth and the child can later find out where he or she came from."
Given the history of women leaving unwanted children where they know they will be safe — whether it's because they can't take care of the infant themselves or their domestic partner is abusive — it's good that women have one more option, especially since it involves medical care. But some Germans, like Katharina Jeschke, a member of the German Midwifery Association, think that they should keep the baby hatches around, too, even though those same people also support the benefits of the confidentiality law.
Baby hatches are popular where they exist. There are many situations where a baby hatch might seem safer to a woman — like if a woman just knows that she never wants to meet the infant. And if they're high tech like they are these days and not some medieval wheel in a church, the infant isn't in physical danger.
The baby hatches are controversial, though. The United Nations, for example, has spoken out about the "alarming" number of orphans left in them once they're installed. In addition to women leaving disabled or sick children in the hatches, they have also been adopted by the pro-life movement as a viable alternative to abortion (which they are not).
Giving women an option to remain safe and healthy throughout their pregnancies is a perk that American women don't yet have. In the United States, remaining anonymous is virtually impossible if a woman needs prenatal care. The confidential birth law from Germany is a very good tool, but it shouldn't be the only one a woman has at her disposal when it comes to deciding whether or not she wants a child. Perhaps the United States can keep that in mind when considering whether to implement a similar strategy as well.