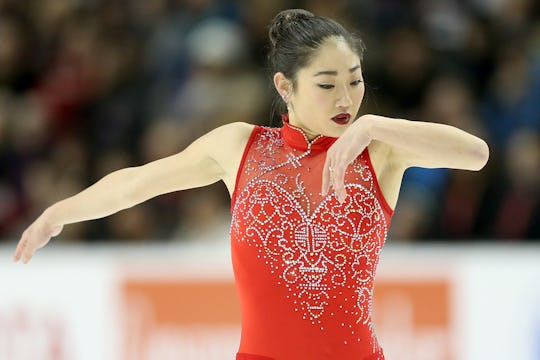 Matthew Stockman/Getty Images Sport/Getty Images
Here's How You Can Follow The U.S. Olympic Women's Figure Skating Team On Social Media
It's hard to believe that Olympic athletes are actually human considering the unbelievable feats of strength, coordination, balance, and grace they display. So sometimes one has to check their social media accounts for confirmation. Which is why I found myself wondering one day what the U.S. Olympic women's figure skating Snapchat names are. It turns out that you may be surprised by what they are. Because I couldn't find them on Snapchat at all. But never fear, I did find the members of the team on other social media channels, so we can all still marvel at their skills/relative humanity.
Figure skating has always been my favorite part of the Winter Olympics, ever since my slightly unhealthy obsession with Michelle Kwan in the '90s and early 2000s. I can only imagine how dangerous this idolization would have gotten if there had been social media at the time. I probably wouldn't have looked up from my phone. So while I haven't been able to find Snapchat accounts for Karen Chen, Mirai Nagasu, or Bradie Tennell, the three individual women competing in PyeongChang, South Korea this winter, I was able to find their Instagram accounts — which I bet are all being watched religiously by small girls all over the country just like me 20 years ago. So let me break it all down for you:
Karen Chen
At just 18 years old, Chen is the youngest member of the Olympic Women's Figure Skating Team. She placed third in this year's U.S. Championships, but placed first the year before. This is her first time at the Olympics. You can check out her Twitter account using her handle @karebearsk8, or just read her memoir, Finding the Edge. Her social media is filled with pictures of her practicing, cute at home shots, and some absolutely adorable throwback pictures of tiny baby Karen Chen just learning to skate.
Oh, and she can do this:
She's already a winner in my book.
Mirai Nagasu
This isn't Nagasu's first rodeo at the Olympics. She finished in fourth place in Vancouver in 2010, and was left off the Olympic team for the Sochi games in favor of Ashley Wagner. But she's back this year and ready to take PyeongChang by storm. A quick perusal of her Instagram shows her having tons of fun wherever she is, and she seems to love the beach almost as much as the ice. You can also follow her on Twitter at @mirai_nagasu.
Bradie Tennell
Bradie Tennell was apparently a virtual unknown before she exploded onto the scene by taking home the U.S. Championship and earning a spot on the Olympic team, skating to a medley from the 2015 Patrick Doyle Cinderella soundtrack. Take a look at Tennell's Instagram account to get a look at where the Cinderella story started, and also check out what she does behind the scenes at the ice skating rink. You can also follow her on Twitter at @bradie_tennell.
I don't know if I've found a new Michelle Kwan to fangirl over among these three — if only because I can't really pick a favorite among them yet. Although if I absolutely had to choose, I think I'm rooting hardest for Nagasu. I mean, it's her turn to shine after all these years, right? That said, I can't wait to watch all three of them take over the competition. I also can't wait to see one of them on Dancing with the Stars after the Olympics are over (because everyone knows that is definitely happening).
Check out Romper's new video series, Romper's Doula Diaries:
Watch full episodes of Romper's Doula Diaries on Facebook Watch.