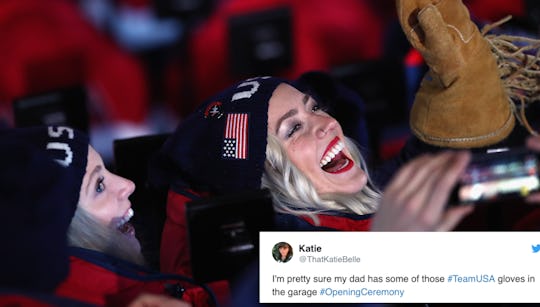 Ryan Pierse/Getty Images Sport/Getty Images
Twitter Is Calling The Fashion Police On Those Opening Ceremony Gloves
Ralph Lauren is a super stylish clothing brand — most days of the week, that is. Designers may have gone a little overboard when designing the Olympic outfits for Team USA in PyeongChang this year. To be specific, Twitter is fixated on the Team USA opening ceremony gloves, which are quite the fashion statement. They're oversized, light brown leather, they go halfway up to the elbows, and — the pièce de résistance — they're topped off with cascading tassels. Yup.
As soon as the gloves made their frilly debut on TV (and, more importantly, the internet), they started going kind of viral. Endless tweets popped up on feeds about the gloves, commenting on the very unique fashion statement. Not only did the frills help the gloves stand out, but they also found the spotlight thanks to their surprisingly bright color. Compared to the rest of the outfit, which was navy with red and white accents (classic USA, am I right?), viewers' eyes were drawn to the gloves' vibrant tan hue.
All tassels aside, no one can blame Ralph Lauren for making the gloves so large, considering just how cold the weather has been in PyeongChang all week. (Temperatures have been consistently in the negatives.)
Naturally, people took to Twitter to comment on the gloves.
Many of them made the same joke, comparing the gloves to Jim Carrey's Dumb and Dumber character Lloyd Christmas.
Others, who were presumably less familiar with the Dumb and Dumber franchise, came up with plenty of other references for the rogue gloves.
However, not everyone was vehemently against the gloves. In fact, some people even liked them.
Ralph Lauren is the official outfitter for the 2018 U.S. Olympic team, as well as the Paralympic team, according to Time. The brand unveiled the look last month, revealing that the clothing is made with a new heating technology that is supposed to keep athletes warm for up to 11 hours. Here's how the technology works, as explained on Team USA's official website:
In a process developed exclusively for Ralph Lauren, the heating system is made from electronic printed conductive inks, printed in the shape of an American flag in carbon and silver ink and bonded to the interior of the jackets. The printed conductive inks are flexible and stretchable, and connect to a battery pack with three settings. With water-repellent properties and featuring 11 hours of heating time at full charge and immediate heat, the jackets are truly functional pieces for America's brightest athletes.
David Lauren, chief innovation officer for Ralph Lauren, explained that the ensemble was meant to evoke a modernized American spirit. "Ralph Lauren is excited by the convergence of fashion and function, and we are committed to supporting Team USA athletes by outfitting them with the latest innovative technology," Lauren said in a statement on Team USA's website. "We're proud that we've worked so closely with the athletes, as well as the U.S. Olympic Committee, to keep evolving and improving. The uniform celebrates the American spirit, with iconic pieces updated with modern details and technical fabrications."
If you're a fan of the Team USA opening ceremony aesthetic, you're in luck. Well, let me rephrase that — you're in luck as long as you're flush with cash. The super-pricey collection is available on Ralph Lauren's website, although some items are already sold out (including the gloves). But there is plenty of other apparel still available, including multiple pairs of other Team USA mittens (prices ranging from $135 to $195), as well as winter hats ($165), sweaters ($595), and totes ($275). And even though many Americans may not be able to agree on their country's opening ceremony gloves, they'll probably still root for Team USA anyway.
Check out Romper's new video series, Romper's Doula Diaries:
Watch full episodes of Romper's Doula Diaries on Facebook Watch.