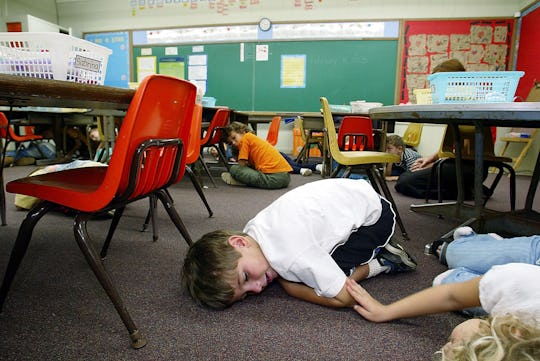 Phil Mislinski/Getty Images News/Getty Images
The US Won't Save Our Children From Guns, So Our Children Must Save Themselves
As a 3-year-old toddler, my son requires me to save him from certain danger on a daily basis. We hold hands when we cross the street. I remind him not to question gravity and jump off the couch. I keep batteries and other potentially-fatal-if-swallowed items out of his reach. I. Protect. Him. But in the wake of another devastating school shooting, this time at Stoneman Douglas High School in Parkland, Florida, this country's children, as young as kindergarteners and third graders, have realized their only hope is to protect themselves. Our inability to pass common sense gun laws contributed to the death of 17 innocent people on Feb. 14, 2018. Our willingness to elect politicians who accept campaign contributions from the NRA allowed the gunman to purchase an AR-15, a semi-automatic weapon capable of delivering a bullet that travels 3,251 feet per second. And our "thoughts and prayers" have made active shooter and lock-down drills as common as SATs and spelling bees.
As the adults, tasked with protecting our children, we've failed. And it's because of our catastrophic failure that our children — our young children — are being forced to protect themselves, their classmates, and us.
Less than 24 hours after 17 of his classmates, teachers, and coaches were gunned down at the end of what should have been a normal school day, 17-year-old David Hogg pleaded with viewers on CNN. "We're children. You guys are the adults. You need to take some action and play a role. Work together. Come over your politics and get something done." And during the shooting itself, Hogg interviewed students as they hid in closets and tried to avoid the barrage of bullets. "If I was going to die, I wanted to die doing what I love, and that's storytelling," Hogg told CNN. "At least our echoes, our voices would carry on and possibly make some action."
Hogg's voice is not the only teenage voice demanding real change. Emma Gonzalez, an 18-year-old senior and school shooting survivor, spoke at a gun control rally in Fort Lauderdale just 48 hours after the shooting. "We are going to be the kids you read about in textbooks. Not because we're going to be another statistic about mass shooting in America, but because, just as David said, we are going to be the last mass shooting." In another interview with MSNBC, Gonzalez said, "This is our fight now, because you messed it up so badly that you left it to the kids. Now it's our job, and you can't try to take that back from us." Students have since orchestrated March For Our Lives, a student-led march on Washington on March 24, and a National School Walkout on April 20, the anniversary of the 1999 shooting at Columbine High School.
A fifth grader, volunteering to sacrifice his young life so that his classmates can live theirs, is part of going to school in the United States of America.
But it's not just teenage survivors tasked with protecting future students and, by proxy, the parents of those students. Tanai Benard detailed a conversation she had with her fifth grade son, Dez, after hearing about the shooting in Parkland. In an attempt to make sure her son knew what to do if a shooter entered his classroom, Benard found out that her son had volunteered to be one of three students tasked with pushing a table against the door of his classroom, then holding it there while students hid behind him. "Dez, why did you volunteer to do that?" Benard asked. "If it came down to it, I would rather be the one that died protecting my friends then have an entire class die and I be the only one that lived," her son responded.
A fifth grader, volunteering to sacrifice his young life so that his classmates can live theirs, is part of going to school in the United States of America.
Another mother, Lisa Guthrie, detailed "ALICE" in a Facebook post, the approach her daughter's school district takes when handling an active shooter situation. In her post, Guthrie describes a recent PTA meeting involving police offers, who told parents their kids have been instructed to "run around, yell loudly," and "throw things like books or wads of paper" to "just be a distraction" if a shooter enters their classroom. Guthrie wondered how her kindergartener daughter, Samantha, would survive a shooting if she confronted a shooter with nothing more than a book. "And then it punched me in the gut," Guthrie writes. "If she's face to face with a shooter, she's going to die regardless. The goal will be for her and her classmates to make their deaths take 20 seconds rather than 10. That's 10 more seconds for other kids to run, 10 more seconds for first responders to get to the scene and take out the shooter."
We've made their safety their problem, and as a result, our children have become our protecters.
Throwing books at shooters, instead of simply reading them, so a young girl can save her classmates is part of going to school in the United States of America.
As parents, we promise our children we'll protect them from the moment they start forming in the womb. When my son was laid on my chest after 23 hours of labor and three hours of active pushing, I looked into his brown eyes and swore, with every fiber of my being, that I would protect him from the dangers of the world he had just entered. I would be his safety, and security, and when he wasn't in my arms or under my watch, I would make sure those tasked with taking care of him would always bring him back to me.
But as parents — as adults — we've broken that promise. We've allowed inaction, apathy, and the supposedly sacrosanct rights of gun owners to leave our children vulnerable. Alone. Afraid. We've created a world that requires they hide in closets, barricade their classroom doors with desks, and throw books at shooters.
We've made their safety their problem, and as a result, our children have become our protecters. They are now looking us in the eyes and making their own promises:
"This is our fight now, because you messed it up so badly that you left it to the kids. Now it's our job, and you can't try to take that back from us."