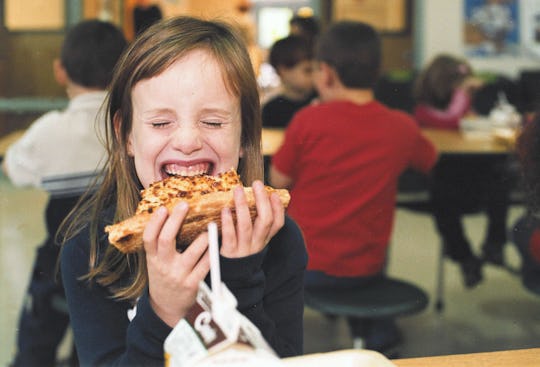 Getty Images/Getty Images News/Getty Images
Trump Administration Is Rolling Back Obama-Era School Lunch Nutrition Guidelines
One of Michelle Obama's biggest legacies during her time as first lady was her focus on childhood nutrition and fitness. She sought to make school lunch programs better, and worked to update guidelines and force schools to offer healthier food choices, including eliminating trans fats and seeking out fresh, local produce. But the Trump administration took issue with those regulations and has rolled back several of them as part of the USDA's new school lunch nutrition rules, which may make kids happier, but perhaps not their parents.
The Obama-era Healthy, Hunger-Free Kids Act was an effort to particularly improve access to healthy food for low-income kids, according to the Obama White House's archives. It included simple demands, like expanding access to water for kids during meals, and more complex changes like requiring specific vegetable subgroups, including dark green and legumes, according to the USDA's ruling. It also required kids on free-lunch programs to choose a fruit or vegetable with the meal, and instructed schools on determining different calorie counts according to ages and grades.
None of those are elements that the current administration took issue with, as People reported. The USDA instead targeted three elements in particular, which it says will increase student satisfaction and relieve burdens on school lunch programs.
"If kids are not eating what is served, they are not benefiting, and food is being wasted," Agriculture Secretary Sonny Perdue said in a press release published on Dec. 6. "We all have the same goals in mind — the health and development of our young people. USDA trusts our local operators to serve healthy meals that meet local preferences and build bright futures with good nutrition."
The changes will allow schools to serve low-fat flavored milk — previously only fat-free could be offered in the flavored option — as well as requiring half the weekly grains to be whole grains rather than all of them. The new guidelines will also give schools more time to comply with lowering sodium levels, according to The New York Times.
The Obama-era regulations sought to reduce sodium levels over a 10-year period with specific goals at the two and four year mark, as People reported. The new ruling hasn't been published yet with the updated timetable for sodium levels, but it is expected on Dec. 12, the publication reported.
To sum up, here's what's going to change:
The new rules are the result of some schools having trouble meeting the previous guidelines, particularly in areas with cultural or regional food traditions, according to U.S. News & World Report. In the southwest, for example, students complained about whole-grain tortillas and in the south items like whole-grain grits and biscuits presented a challenge, according to U.S. News & World Report.
But the American Heart Association isn't having it and issued a statement encouraging schools to continue with the old guidelines, writing:
If the concern truly was to provide those few schools experiencing challenges with more 'flexibility', the more responsible approach would have been for USDA to provide more technical assistance to these institutions so they could offer healthier food choices.
The AHA noted in its statement that many schools declared they would press on toward healthier options when the Trump administration announced its intent to roll back the guidelines in 2017.
The Center for Science in the Public Interest reported that 60 percent of Americans opposed this rollback of the guidelines and more than 80,000 people submitted comments to the USDA about the matter. More than 85 percent of schools had been successful at serving whole grains and complying with other stipulations of the mandate, according to the CSPI.
The USDA provides suggestions on its website for ways parents can get involved in their child's school nutrition program. These include eating at school with the child to see what is being served and working with the PTA and school board to set up a healthy meal program.
So while kids may like the new meals more, they may not be something that is on their best interest over the long run. After all, what tastes best isn't always what's best for us. It might take parents, at the local level, getting involved if they want to see the stricter rules ever again.