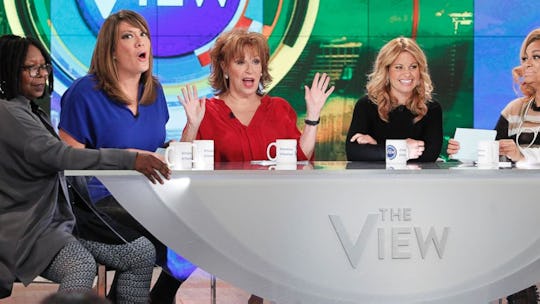 'The View' Makes Fun Of Eating Disorders & Apologizes — But Viewers Aren't Happy
Although advocates are more vocal than every about positive body image and more people are adopting body positive attitudes, it sometimes appears as though the media is working overtime to set this progress back. Here's one example: On Thursday's show, some members of The View cast joked about which eating disorder they'd rather have. Within minutes they backtracked, issuing what some (nobody) would consider an apology, but the damage was done. Twitter was having absolutely none of it.
So what exactly happened on today's installment of The View? The hosts started the show out by telling the audience about a backstage conversation in which they had debated which they'd prefer to have: anorexia or bulimia. On of the panelists, Michelle Collins, said, "Oh definitely bulimic — you know, you get to enjoy the meal." And within 15 minutes — after a commercial break during which, hopefully, they reflected on how absurd their comments were — they came back singing a different tune.
"We always offend someone on this show. We're like always in trouble — the comedians in particular," panelist Joy Behar started off. "We understand that bulimia is a serious illness, we're just trying to have some fun over here." To make matters worse, not only did fellow panelist Candace Cameron Bure admit that she'd suffered through an eating disorder, but the Fuller House actress then defended what happened, commenting "I think I can joke about it because I've been there." And because this apology couldn't get any more uncomfortable — in true Whoopi Goldberg fashion, the moderator also took the opportunity to stumble all over herself to explain how all this transpired:
As Candace pointed out, she knows what this is like. We know. We understand. And, of course, we never want to offend anybody. We're just having good conversation and sometimes we go there because we're comics.
Though there were countless variations of "love you"s uttered during the segment, the Twittersphere was definitely not loving The View cast's comments — or their apology for that matter. And while many expressed outrage at the comments, some were genuinely hurt and upset that they poked fun at a devastating disease.
Many Took The Opportunity To Dismiss the Show Altogether
And Others Pushed For The Show's Cancellation
One User Brought Up Cameron Specifically...
And Some Turned The Incident A Teaching Moment
Hopefully the hosts learned their lesson. Please no cancer jokes.
Watch the full segment on The Wrap.
Image: ABC