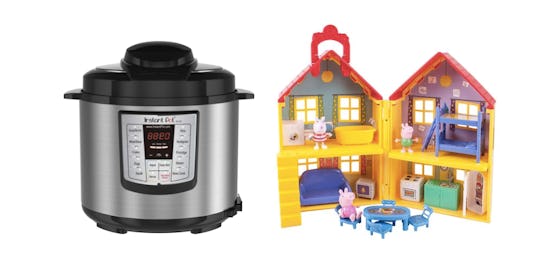 OMG, Walmart's Labor Day Sale Includes A $50 Instant Pot & A $30 Peppa Pig Dollhouse
Labor Day sales are all over the place this weekend. The biggest retailers in the country will be pulling out all the stops to lure in guests with their promises of dollars saved. Some of the best deals of the weekend will be at the Walmart Labor Day sale, which is offering huge discounts on some of their most popular items.
Whether you're in the market for an Apple watch or patio furniture, chances are, it's on sale at Walmart. The biggest savings are on electronics and other big ticket items, but rest assured, if you're looking for reliably good deals on smaller items like colored pencils or dry erase markers, you're in luck. The back-to-school deals are piled into the Labor Day sales, and the discounts are fantastic.
Savvy buyers will find that some of their biggest wish list items are at rock bottom prices this weekend. For instance, have you been waiting to pull the trigger and finally buy that Instant Pot everyone raves about? This weekend, the 6-quart standard model is only $50. That is the cheapest price that you will see for the much lauded appliance. If you're daring with your new Instant Pot, I would suggest adding a canning jar set to your cart as well.