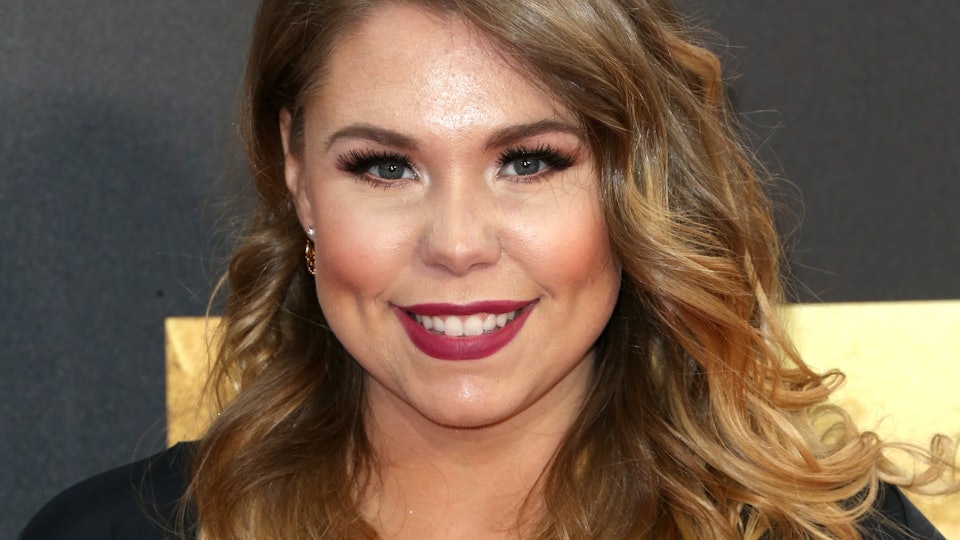 Frederick M. Brown/Getty Images Entertainment/Getty Images
The Way Kailyn Lowry Did Halloween With Her Kids Shows She's Nailing Co-Parenting
The holidays can be a stressful time for families, especially if you're in a co-parenting situation. Many separated parents struggle to put their differences aside for the sake of their kids (it's OK, these things can take time), and a lot of families remain splintered on special occasions. If you're a divorced or separated parent who's nervous about making things work on Halloween and the upcoming holidays, you'll likely appreciate how Teen Mom 2 star Kailyn Lowry handled Halloween with her kids — although Lowry has had co-parenting issues in the past, she's now co-parenting like a total champ.
On Saturday, Lowry took to Instagram to share some adorable photos of herself enjoying Halloween with her three sons: Isaac, Lincoln, and Lux. Although the pictures are precious for many reasons, fans were especially thrilled to see that Lowry's weekend included some impressive and inspirational co-parenting. It turns out Lowry trick-or-treated with two of her boys' fathers — Javi Marroquin and Jo Rivera. The best part? Rivera's fiancée, Vee Torres, also came along with the couple's young daughter, Vivi.
For fans of Lowry, this wonderful display of co-parenting might come as a surprise. Throughout the past year, Lowry has been engaged in a public and contentious battle with Lincoln's dad, Marroquin; the two most recently appeared on Marriage Boot Camp in a failed attempt to make things work. Now that Lowry and Marroquin have finally figured out their relationship status (the two divorced late last year), it looks like they're in the right place to effectively co-parent.
Check out the amazing co-parenting moment below:
How cute and refreshing is this photo? It's especially cool to see Lowry and Torres together — the two initially had major problems in the past. Remember when Lowry and Torres couldn't even be in the same room together? It's pretty incredible how things can change so drastically in just a few years.
Following the photo, a lot of Lowry's fans took to the post's comments section to praise her co-parenting skills. Take a look at some of the accolades below:
Ughhhh fully support the bonus parent attending too and both fathers being there for the children!!! Parenting done righttttttt.
Love these pictures!! Glad you all can coparent and make it work!
Co parenting!!! Good job! Takes a real woman, and good people! Treat the kidsright!!
That's really cool that y'all make it a point to do stuff together; parents being separated doesn't have to mean family being separated.
Omg I love that you all got together for the kids! So much respect!
Co parenting at its finest... warms my heart to see all of you all together.
Whether you're a fan of Lowry or not, you have to admit it's great that she and her exes smoothed things over for Halloween. As one of the Instagram commenters noted, a family doesn't have to be separated just because the parents are separated. Isaac, Lincoln, Vivi, and Lux deserve to have their bonds as siblings supported — those ties are forever.
Of course, co-parenting is more difficult than it looks. Parents who are having trouble making it work should focus on tested strategies that are approved by the experts. Dr. Deborah Serani, an expert psychologist and author, advises co-parents to foster an "open dialogue" and to regularly share relevant information with one another, according to Psychology Today. Serani also encourages co-parents to create consistent rules at both homes (if the co-parents live apart) and to discourage children from speaking badly about either parent.
Although it's possible that Lowry always won't have perfect relationships with her exes, it's clear she'll always make an honest effort to effectively co-parent. Lowry and her exes are committed to putting their kids first, and it's truly heartwarming.