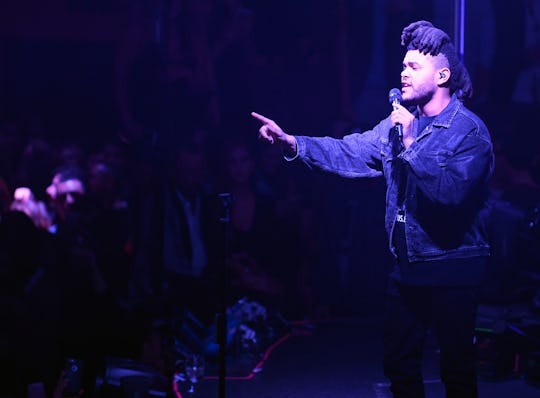 Bryan Steffy/Getty Images for Drai's Beachclub-Nightclub
The Weeknd Grammys Performance Showed Off His Best Asset
Some might say that they're only watching to see what happens live, but for me, the Grammys are all about the performances. And tonight, The Weeknd's Grammys performance totally took the cake. It seemed like 2015 was the year of The Weeknd (whose real name is Abel Tesfaye), but IMHO, it seems like 2016 is off to a seriously good start for the R&B star. He's already made headlines after appearing on Kanye West's all-new The Life of Pablo album. Tesfaye is featured on the track "FML," which is West's "most honest" song on the album, one that's written entirely about his relationship with his wife, Kim Kardashian West.
In the song, West raps:
I been waiting for a minute, for my, lady, so I can't jeopardize that for one of these hoes, I been living without limits, as far as my business, I'm the only one that's in control, I been feeling all I've given, for my, children, I will die for those I love.
The song is all about Kanye's desire to stay faithful to his wife and to the life they've built together with their two children. The Weeknd's silky voice croons in the background, and it must've been a humbling moment when he realized just how emotional and personal the song would be for West to feature on the album.
But at the 2016 Grammys, The Weeknd put his musical ability on display, front and center, showing he not only brings the heat with his performances, but his voice is an absolute knockout. Nothing made that clearer than the standing ovation he earned following his two-song medley at the show.
Need a refresher? Watch this:
See what I mean? *Drops mic for self*